A's trade 3B Lawrie to White Sox for 2 minor-league pitchers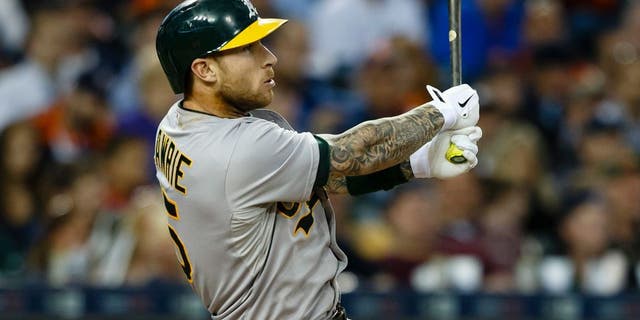 OAKLAND, Calif. -- The Oakland Athletics made two more moves to boost their pitching staff Wednesday, acquiring a pair of minor leaguers from the Chicago White Sox for third baseman Brett Lawrie and agreeing to terms with right-hander John Axford on a $10 million, two-year contract.
Axford's deal was pending a physical, a person with knowledge of the agreement said on condition of anonymity because it hadn't been announced. Axford spent 2015 with Colorado, but had a scary start to the year when his then-2-year-old son Jameson was hospitalized at spring training in Arizona after being bit on the foot by a rattlesnake. The pitcher missed more than a week to be with his toddler.
Axford had 25 saves for the Rockies while recording a 4.20 ERA in 60 games.
The A's announced the trade of Lawrie, an anticipated move for the club during baseball's winter meetings. Oakland received right-hander J.B. Wendelken and minor-league left-hander Zack Erwin in the swap.
The departure of Lawrie leaves Oakland with five remaining arbitration-eligible players, down from 12 last week. New general manager David Forst has made an improved pitching staff a priority this offseason.
The A's reached agreement on a $22 million, three-year contract with free-agent reliever Ryan Madson on Sunday. In a trade last Wednesday with San Diego, Oakland acquired reliever Marc Rzepczynski, who later that night agreed to a one-year deal to avoid arbitration.
Oakland had a full infield after acquiring shortstop Jed Lowrie from Houston on Nov. 25, leaving third basemen Lawrie and Danny Valencia as possible options to be dealt. Valencia is scheduled to play third, Lowrie second, Marcus Semien shortstop with Eric Sogard as a utility infielder.
Lawrie hit .260 with career highs of 16 homers and 60 RBI in his lone season for the A's, also staying off the disabled list for the first time in five major-league seasons.
''Certainly when we got Jed from Houston, people were checked in, were made aware we might do something else on the back end,'' Forst said. ''Brett had a great year. He worked really hard to stay on the field. I know he was very proud of that. This was an opportunity for us to add some pitching to our system and being able to secure Jed a few weeks ago allowed for this opportunity.''
Wendelken, who pitched for the U.S. team at the Premier 12 tournament last month and played in the Arizona Fall League, went a combined 6-2 with five saves and a 3.20 ERA in 39 relief appearances between Double-A Birmingham and Triple-A Charlotte this past season.
Erwin was 2-2 with a 1.34 ERA in 15 appearances with seven starts for rookie Great Falls and Single-A Kannapolis.
Oakland's players eligible for arbitration are first baseman Yonder Alonso, right-hander Jarrod Parker, right fielder Josh Reddick, right-hander Fernando Rodriguez and Valencia.