As tensions ease between U.S. and Cuba, MMA promoters see the island as the next frontier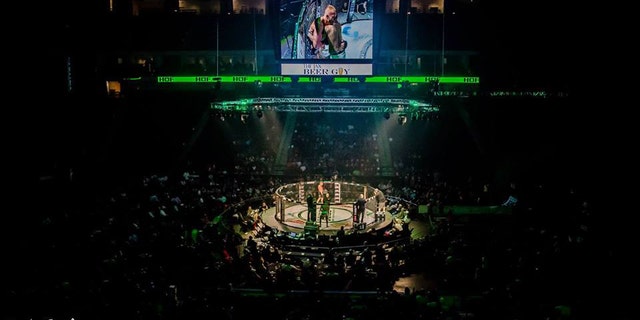 Mixed martial arts promoters and agents are seeing Cuba as the next frontier for talent and expansion in a sport that is rapidly expanding in Latin America.
Well before U.S. and Cuban officials had a two-day summit in Havana to discuss the finer points of potentially lifting the embargo and – even before a thaw in relations between the two countries was discussed – some promoters seeking new talent began building ties to athletes in the country.
House of Fame, a promotion company based in Jacksonville, Florida, will host a match in Miami in March featuring Cuban fighters pitted against Americans. They have applied for visas for four fighters but they are waiting for approval. In the meantime, they will have 12 matches scheduled for Cuban-Americans and Cubans who immigrated to the U.S.
"We are right in the middle of crosshairs of change," said Paris Tsitos, the president of House of Fame, who is anxiously awaiting news that his company will be able to host Cuban fighters.
When President Barack Obama announced news of a changing relationship, agents started thinking of ways to reach athletes.
"Cuba has very good wrestling and boxing," explained Abraham Kawa, a manager with First Round Management. "Those skills would translate great into mixed martial arts. We don't know what the mixed martial arts community looks like in that country yet but we know the training on those levels looks great."
The Ultimate Fighting Championship, the largest MMA promotion company in the U.S., is looking that way, too. When Jaime Pollack, senior vice president of international development and general manager for Latin America for UFC, heard the announcement that the U.S. may ease Cuban restrictions, he first felt joy for the Cuban people.
"But my second reaction was that there is definitely an opportunity for the UFC to come to Cuba, and give the Cuban population an ability to watch UFC and ... to participate," Pollack told Fox News Latino.
The sport has become wildly popular in Latin American countries so gaining a foothold in the region is key.
The UFC has a 24-hour channel that broadcasts in Spanish in Latin America, and other organizations such as Combate Americas have sprung up to cater to Latinos in the U.S. Pollack said Televisa, the network they partner with to broadcast UFC in Latin America, is already in talks with the Cuban government about the possibility of getting its networks distributed – which, if successful, could introduce UFC to Cuba. An email to Televisa representatives for comment was not answered.
Combate Americas is interested in the country as a feeder for talent. The company's immigration attorney is trying to figure out how and when they can bring in fighters.
"We've been looking seriously at Cuba for about a year," Campbell McLaren, CEO of Combate Americas, told FNL. "In terms of talent, it punches far above its weight class."
But since a new relationship hasn't been defined, everyone is still waiting.
"Our immigration attorney told us this will look like a cultural exchange initially," said McLaren. "Visas will be limited to one certain thing and will be done under the watchful eye of the government."
Professional sports were banned in Cuba in 1961. In 2013, officials lifted restrictions that allow Cubans to keep all of their sports earnings. In the past, athletes had to give 85 percent to the government.
As confident as Americans are that MMA fighting would be embraced in Cuba, it's unclear how welcome the actual fights would be. There are reports that MMA is banned in Cuba for fear it would take away athletes from boxing. However, there are also reports that gyms are opening that use combined wrestling, boxing and martial arts, all of which are popular in Cuba.
Tsitos said his Cuban contacts have reported schools popping up every week in different parts of Cuba. They are "like in huts and there are kids are coming every day."
"It's amazing the underground MMA culture in Cuba," he said.