As series shifts to Nashville for Game 6, Predators ready for 'another battle' with Blues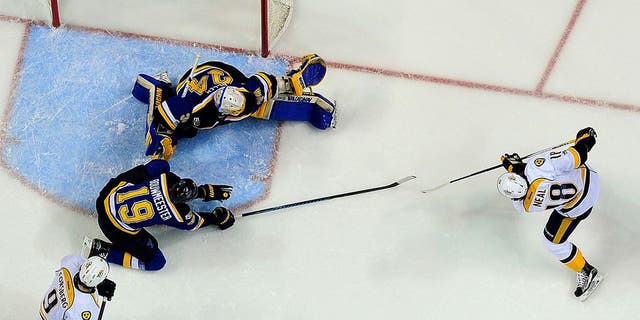 ST. LOUIS -- With a chance to close out the Blues in five games, it just wasn't meant to be for the Predators.
Breaking a 1-1 tie only 25 seconds into the third period, St. Louis shut down Nashville for the remainder of regulation -- preventing any chance of the Predators trying to get back into the game.
They had their chances, but it was a penalty-filled contest on both ends of the ice and a sloppy outing overall for the Predators. Even so, it was just a one goal loss.
1. Predators found a way to survive a pressure-filled first period
If it wasn't clear enough that St. Louis was going to go all-out in the first of three potential elimination games, then you may not have been paying enough attention to the series.
Initially, the first five minutes of Game 5 were crucial for Nashville -- survive, re-group and push the attack into the Blues zone towards goaltender Jake Allen. While that was accomplished and the Preds had chances of their own, St. Louis routinely cycled the puck in Nashville's zone as the first period came closer to an end.
Then came the penalties -- two minutes for James Neal and four minutes for Mattias Ekholm, 10 seconds apart.
A lengthy five-on-three for the Blues for the final two minutes of the first.
And Nashville survived. Thanks to Mike Fisher blocking three of Vladimir Tarasenko's five shot attempts and overall great positioning by Fisher, Ryan Ellis and Roman Josi, the Preds finished the period scoreless and then killed the remainder of the penalty at the start of the second.
Nashville has killed 13 of 14 penalties so far against the Blues, it shouldn't come as a surprise that it has continued to do so as the series has progressed. But to end the period on a lengthy five-on-three chance and kill that off? That's huge.
2. Endless parade to the penalty box
When Blues head coach Mike Yeo's Game Four commented on how Nashville seemingly lobbied constantly at the refs for calls, you could almost expect a different feel -- penalty-wise -- to Game 5 in St. Louis, but it wasn't like you would have thought.
After two back-to-back calls on Nashville to end the first period, both the Preds and Blues would combine for 10 minutes of penalties in the second -- one set of penalties resulting in Nashville tying up the game.
"Can we do a better job of being disciplined? Of course, but that's a part of the game," Predators defenseman P.K. Subban noted. "We were in the game. We had some big kills and we have to build off of that. We have to play a full 60 minutes of Preds hockey to be successful."
Unfortunately for Nashville, it ended up having to kill penalties to end both the first and second as well as start the second and third periods. That's not ideal when you're trying to eliminate a team from the Stanley Cup Playoffs.
"You get out of rhythm a bit. We did a good job on the kill, I thought," Predators forward Ryan Johansen said. "We need to be playing five-on-five and attacking in the [offensive] zone. Try to stay out of the box a little more."
3. Disgruntled, but not disheartened
For all of the great things that Nashville has done in its seven wins this postseason, it's fair to say this Game 5 loss in St. Louis was the worst game they've played thus far in the playoffs.
The Predators seemed a step behind for much of the evening, just not being able to match the same intensity level as the Blues.
"The game was out-of-sync a little bit," said Predators head coach Peter Laviolette, during an abbreviated press conference that nearly mirrored the one after their Game 2 loss. "We found ourselves in the box. Even power plays going our way seemed out-of-sync. They scored first, so we're chasing the game at that point as well. Then chasing it again as we go to start the third."
Not just that, but it was a sloppy showing from the Preds. "Sloppy play" are two words that just haven't described Nashville's efforts during the 4-0 sweep of Chicago or the first four games of this series against the Blues. The little things that Nashville had been capitalizing on took a nosedive inside Scottrade Center Friday night.
"It's a number of things," Subban said. "I think we had our opportunities, but the little things, at this point in the season, are going to cost you. You got to bear down on the little things. I think that, for us, we've done those things so well, but we're going to have to bring our best on Sunday."
The mood in the locker room after the Game 5 loss wasn't one that should leave much to be overly concerned about. Yes, the Predators were a tad disgruntled after dropping a tightly-contested 2-1 game, but they weren't a team that seemed too down on themselves.
Rather, Nashville seemed angry.
Rinne had commented after Game 4 that the Preds had the opportunity to put their foot on the throat of St. Louis and end the series in five games.
Now, they'll have another chance in Game 6 on Sunday afternoon on home ice where they've yet to lose this postseason.
"We know it's going to be a huge game, Game 6," said Rinne. "Obviously, it's nice to go home and play in front of your fans, but I think we all agree that we can be better and play better. Preparation and everything leading up to the next game has to be perfect. It's going to be another battle.
"It wasn't our best game. We still had a chance to win. It was still a 1-1 game going into the third. We created a few chances and couldn't capitalize. We got to be real here -- we got to be better, that's the bottom line."