As season nears, Boras and Marlins ready to zero in on Fernandez innings limit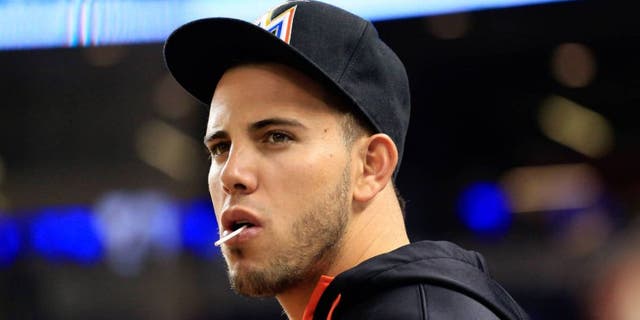 NEWYou can now listen to Fox News articles!
Even with new manager Don Mattingly and pricey free-agent signing Wei-Yin Chen, the Miami Marlins' 2016 spring training likely will be defined by two questions:
Is Giancarlo Stanton completely healthy? And how many innings will Jose Fernandez be allowed to pitch?
Stanton can answer with the quality (and durability) of his play, after missing the final three months of last season with a broken left hamate bone that required surgery.
With Fernandez, it's a little more complex.
This is Fernandez's first full season after undergoing Tommy John surgery. Scott Boras is his agent. And Boras was heavily involved in establishing plans for clients Stephen Strasburg and Matt Harvey after they had the same operation.
Boras said Monday that he's already had initial conversations with Marlins owner Jeffrey Loria and baseball operations president Michael Hill about Fernandez's workload. "There's going to be a range (of innings) discussed with the team and the doctors involved," Boras said.
Hill, for his part, said Monday in an email that the team has formulated a "tentative game plan . . . that we will review with Jose in Spring Training." Hill added that the Marlins' baseball operations department, team medical staff, Dr. Neal ElAttrache (who performed the surgery), and Fernandez himself have had -- or will have -- voices in the decision-making process.
So, the parties agree a consensus is necessary. That's good. But the ultimate number -- which caused so much controversy for Harvey last fall -- remains unknown. Boras and the Marlins sparred early in the offseason about how much influence Boras could have on Fernandez's workload; they reconciled in time for Chen, a Boras client, to sign a five-year, $80 million deal with the Marlins. Now the Fernandez issue is back.
The Marlins, according to one source, will be reluctant to place a hard cap on Fernandez before the season, preferring to agree on a range that could be scaled based on the number of stressful innings encountered during the year.
If the Marlins use Harvey's 2015 season as precedent, Fernandez's limit could be around 180 innings.
The reasoning: Harvey threw 189-1/3 innings last year, not including the postseason. That was an increase of 11 over his previous career high. Fernandez's career high is 172-2/3 innings; a similar increase would place his workload in the low 180s.
Of course, the circumstances aren't identical. Harvey's rehabilitation from Tommy John surgery was more deliberate, which probably improved his stamina down the stretch in 2015. Fernandez had the added complication of a biceps strain last year after his initial return from the surgery.
Soon, the stakeholders will meet in Jupiter, Fla., and arrive at a plan for the Marlins' ace. Philosophies and justifications will be put forth, but ultimately the baseball industry wants to know the number. And we'll bookmark it, of course, just in case the 2016 Marlins prove to be as surprisingly relevant as the 2015 Mets.