As Maxim columnist, UFC's Ronda Rousey courts controversy from bedroom to White House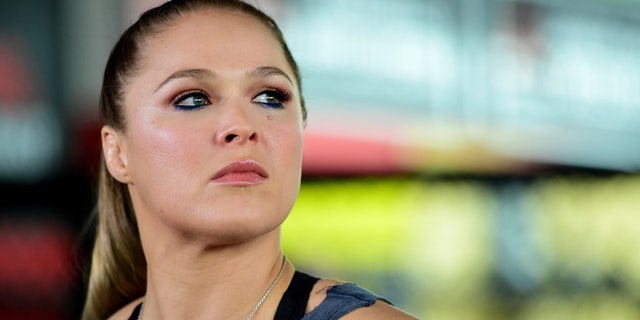 MMA champ Ronda Rousey is on a slippery slope in her new role as columnist for the men's magazine Maxim.
Rousey, who is set to defend her UFC bantamweight title on Saturday against Holly Holm on Saturday, in her latest item came out in support of presidential candidate Bernie Sanders.
"I'm voting for Bernie Sanders, because he doesn't take any corporate money," she told Maxim, according to the Hill. "I don't think politicians should be allowed to take money for their campaigns from outside interests."
Rousey went on to say that if frontrunner Hillary Clinton gets the nod from the Democrats, she won't be voting for her.
"If he doesn't win against Hillary, then I'll probably vote for a third party again," she said, noting that in 2012, she voted for comedian Roseanne Barr, who ran on the Peace and Freedom Party ticket.
Clinton doesn't float Rousey's boat and apparently neither does using lubrication in the bedroom. In her previous Maxim column, she advised guys to ditch the lube.
"You should never need lube in your life," Rousey wrote. "If you need lube, then you're being lazy ... and you're not taking your time."
The statement drew a strong backlash from sex educators and lubricant manufacturers who were angered that Rousey would demean the use during sex.
"Depending on the kind of sex being had, lube can be essential because not all our orifices produce the necessary fluids to ensure adequate slipperiness," social worker and sex educator Aida Manduley told Salon.
Besides such hard-to-reach places, Manduley also noted that some people suffering from debilitating diseases as well as victims of sexual trauma need to use lube if they want to have vaginal sex.
She said: "If someone is undergoing cancer treatment, going through menopause or even taking certain medications, their natural lubrication production can dramatically change and decrease. For survivors of sexual trauma, even when emotionally feeling ready to have consensual sex, their bodies may be so dissociated that lubrication production is compromised. None of these things are about people being 'lazy.'"
A few days later, the company Wicked Sensual Care said that while they are huge fans of Rousey, her thoughts on the topic are misinformed.
"Lubricant is perhaps one of the most essential elements of a healthy and enjoyable sexual experience, regardless of age or gender," the company said, according to xbiz.com. They went on to offer the UFC star a free lifetime supply of its "PETA-approved lubes."
Rousey seemed to find the Lubegate controversy ridiculous.
In the first episode of the web series Embedded, which follows Rousey and Holm as they prepare for their bout, the bantamweight champ appears incredulous about the flap.
"We were in a world of openly accepting lubeness until I came on," Rousey said. "I'm sorry, I thought I was doing all the girls a favor, making sure that their guys put in some effort. But it sounded like some gritty kitty b-----s are really f----n' mad at me. I'm like, 'It's not my fault you're working with a sandbox.'"
While Rousey has had combative exchanges with people like opponent Cat Zingano and Floyd Mayweather, she isn't known for frequently expressing her political views.
Earlier this year, Republican candidate Donald Trump claimed that Rousey was supporting her, but the UFC star squashed that.
"I wouldn't vote for him," she said in August. "I just really wouldn't trust the guy with running my country, that's all. I'm not really going to get into specifics of it, but, I mean, I don't really want a reality TV star to be running my country."