A's, Manny agree to minor-league deal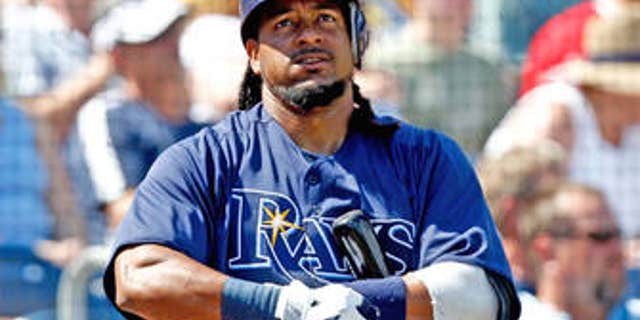 NEWYou can now listen to Fox News articles!
The Oakland Athletics have signed Manny Ramirez to a minor-league deal, the team announced Monday. The deal is for $500,000, according to a source. That is slightly more than the league minimum of $480,000.
The 39-year-old slugger must serve a 50-game suspension without pay for violating baseball's drug policy for the second time. With no rainouts, the first game Ramirez would be eligible to play is June 2 at Kansas City.
It is not known if the slugger's salary will be pro-rated to account for his 50-game suspension.
''I am very pleased Billy (Beane, GM) was able to add Manny to our team,'' owner Lew Wolff said in an email to The Associated Press. ''I look forward to welcoming him and the entire team that Billy and his people have assembled for the coming season.''
Ramirez will report to spring training as a non-roster invitee by the end of this week.
The deal was first reported by Pedro Gomez of ESPN.
Ramirez retired from the Tampa Bay Rays last season rather than serve a 100-game suspension. At baseball's winter meetings in December, it was announced that Ramirez had applied for reinstatement. He had his suspension for a second failed drug test cut to 50 because he sat out nearly all of last season. MLB had announced his retirement on April 8, saying he was notified ''of an issue'' under the drug program.
Ramirez does not have to be completely idle during his 50-game suspension for violating baseball's drug policy.
He is eligible to play in spring-training games, according to major-league sources.
Once the season starts, he can work out with either major- or minor-league clubs, provided he leaves by the time the gates open. He also can appear in games during extended spring training, which generally is for players who are not ready to play for a full-season club, either due to injury or inexperience.
Finally, as his suspension draws to a close, Ramirez can play in the minors on a rehabilitation assignment. That assignment, however, would consist of only 10 games, not the normal 20.
The A's last week agreed to terms on a $36 million, four-year contract with highly sought after outfielder Yoenis Cespedes, a Cuban defector who has expressed interest in playing with Ramirez.
Ramirez ranks 14th on the career list with 555 home runs. He went 1 for 17 (.059) in five games last season for Tampa Bay, which had signed him to a one-year deal worth $2.02 million.
This would be the 20th major league season for Ramirez, a career .312 hitter with 1,831 RBI.
(Associated Press contributed to this report.)