A's, Henderson Alvarez agree to one-year deal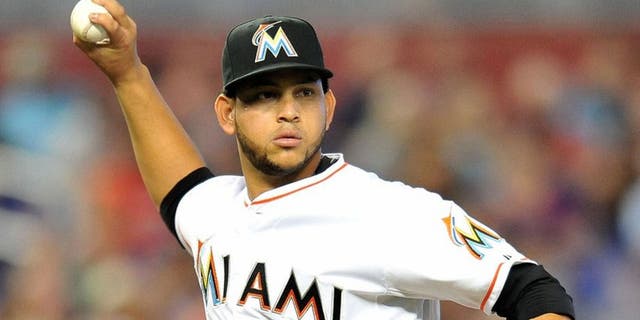 The Oakland Athletics have added a young pitcher with potential to their rotation.
The team officially announced Monday that it agreed to terms for a one-year deal with right-handed starter Henderson Alvarez, who was recently non-tendered by the Miami Marlins after three seasons with the club.
Alvarez revealed that he had a deal in place with the A's two weeks ago, but the A's hadn't confirmed the news until Monday.
The Venezuelan righty is coming off his worst major-league season, in which he went 0-4 with a 6.45 ERA in four starts before requiring season-ending shoulder surgery in July.
Alvarez, who will turn 26 next year, was once hailed as a promising right-handed prospect. After developing in the Toronto Blue Jays organization, he was sent to the Marlins in a trade that brought Mark Buehrle and Jose Reyes, amongst others, to Toronto.
In 92 career starts, Alvarez has posted a 27-34 record with a 3.80 ERA, 1.29 WHIP, and 296 strikeouts versus 129 walks over 563 innings.
His best season came in 2014 with the Marlins, when he notched a 12-7 record with a 2.65 ERA and 1.24 WHIP, making his first All-Star team in the process.
Alvarez notably threw a no-hitter for the Marlins on the final day of the 2013 season.