A's Gray, Astros' Kazmir exchange spirited jabs ahead of Tuesday matchup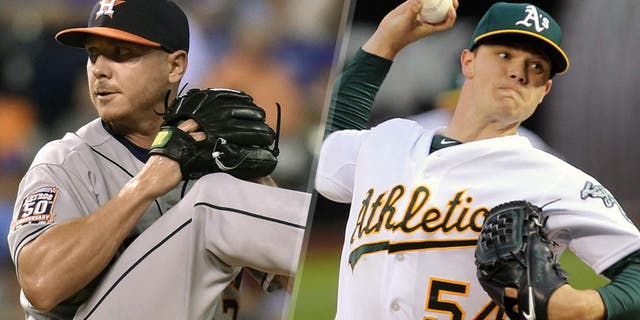 On Tuesday night, Houston Astros left-hander Scott Kazmir will toe the rubber at O.co Coliseum for the first time since the Oakland Athletics traded him prior to the July 31 deadline.
Opposing him will be A's ace Sonny Gray. The two pitchers, who spent roughly a season and a half on the same starting staff in Oakland, are good friends - so naturally they've exchanged some competitive jabs ahead of the showdown.
According to Oliver Macklin of MLB.com, Kazmir said Gray texted him things such as "I don't think you want to pitch on Tuesday," and that's just one of the many barbs exchanged between the two.
"With Sonny up there, he's already been texting," Kazmir told Macklin. "Once we figured out exactly when he was going to pitch, that's when the trash talking started."
A's manager Bob Melvin contextualized things a bit further, noting that the veteran Kazmir was an invaluable mentor to the emerging Gray over the course of his tenure with the A's: "I don't know that there's anyone in the game Sonny looks up to more than Scott Kazmir. He's done a lot for him, not only on-field stuff with preparation and so forth, but preparation too. They've become very close, so it should be a good matchup tomorrow."
Fun and games aside, Kazmir will be trying his hardest to ensure the Astros don't see their AL West lead shrink any more. After their loss and the Texas Rangers' win on Monday, Houston is clinging to just a two-game lead in the division.
(h/t MLB.com)