A's confident they can beat anyone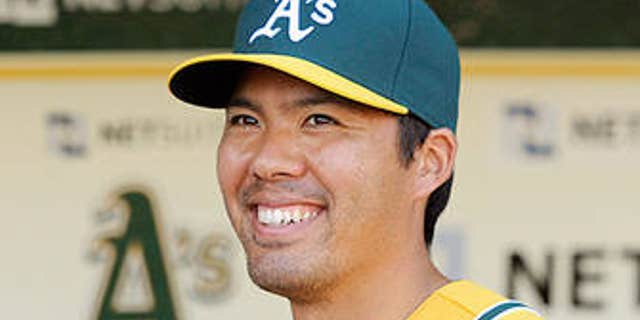 Catcher Kurt Suzuki was on the phone, comparing the 2013 Oakland Athletics to two teams with which he also is quite familiar - the 2012 A's and the 2013 Washington Nationals.
In each case, Suzuki said, there are more differences than similarities.
These A's are headed for their second straight AL West title, but Suzuki believes the team has developed a more mature mindset since he was traded to the Nats on Aug. 3, 2012.
The Nats, meanwhile, stood only a 3.3 percent chance of making the playoffs as of Monday, according to Coolstandings.com . And Suzuki, who was traded back to the A's on Aug. 22, can't figure out why his former team only recently got hot.
"Everyone asks me that: 'What happened with the Nationals? And this team in Oakland, it has no superstars,'" Suzuki said. "It's hard for me to compare. I can't try to compare. They're so different.
"It's baseball. It's weird. Things like that happen. In Washington, they've got arguably the most talented team in baseball. You look at their roster and you're like, 'How in the world does that team not win 100 games?' That's the game of baseball. You can't explain it."
A year ago, the same might have been said of the A's. But here they are again, leading the majors in homers since the All-Star break and ranking second in the AL in ERA behind Kansas City.
If the season ended today, they would host the Detroit Tigers - a team they swept at Comerica Park in late August - in the Division Series.
Here is my favorite A's stat, not that it holds any particular relevance: Starting July 1, 2012, they're 144-87, a .623 winning percentage. That is the best record in the majors, with the Atlanta Braves next at 142-92 (.607).
So, what is the difference between this Oakland club and the one that Suzuki left last season before the A's rallied to win the AL West title?
In a word, confidence.
Confidence that even with the game's 27th-highest Opening Day payroll, the A's can compete with any opponent.
In the past, Suzuki said, "We would be kind of like, 'Oh, man, the Yankees, the Tigers, the Rangers, they've got all these big-name guys. How are we going to do this? How are we going to do that?' Now we're just like, 'Let's go.'"
"It's just a confidence factor. It's not worrying about Texas coming in with a big payroll and big boppers and the other teams coming in with high payrolls .... that doesn't affect us anymore."
It shows. Boy, does it show.
REASSESSING THE ROYALS
On Sept. 11, I asked on Twitter, "So, after all the debate over the Wil Myers trade, what if the Royals make the playoffs and the Rays don't? Will the deal still look short-sighted?"
The vast majority of responses - I would say at least 80 percent - were "yes." And since then, the Rays' chances of reaching the postseason have increased from 45.6 percent to 53.0 percent, while the Royals' chances have decreased from 9.7 percent to 8.1 percent.
I understand why Royals fans and many analysts still hate the trade, which sacrificed six years of Myers' vast potential (not to mention right-hander Jake Odorizzi's) in exchange for two years of right-hander James Shields and two years of righty Wade Davis (the team also holds three club options on Davis, who flopped as a starter and is now back in the bullpen).
One enduring argument against the trade is that the Royals weren't yet ready to win big. Another is that they could have kept Myers and perhaps been just as strong. I can't dismiss either point. However, I would contend that the addition of Shields also produced some intangible value.
Shields, with his usual 30-start, 200-inning, high-quality season, helped A) ease pressure on the Royals' other starters; B) enable the team to hold off rushing younger pitchers and C) established a winning, no-nonsense approach that KC had been missing for too long.
None of those things can be measured, but there was value to getting the Royals on the right track going forward. And the chances of such a turnaround occurring in 2013 probably were greater with Shields than they were with Myers.
The trade, of course, cannot be judged by '13 alone. But Shields still will be part of the rotation next season when younger starters such as left-handers Danny Duffy and Will Smith possibly assume larger roles, along with righty Yordano Ventura and eventually righty Kyle Zimmer.
The Royals might need to replace two potential free-agent starters, righty Ervin Santana and lefty Bruce Chen. For all anyone knows, the team could take a step back in '14 while Myers becomes a leading candidate for AL MVP.
No matter, I still think the trade wasn't as one-sided against the Royals as many of its critics believe.
DEE-FENSE!
We know defensive metrics are not foolproof. We know dWAR (defensive wins above replacement) is just one approximation of defensive value.
Still, it's at least worth noting that according to dWAR, Atlanta Braves shortstop Andrelton Simmons, Baltimore Orioles third baseman Manny Machado and Milwaukee Brewers center fielder Carlos Gomez are producing three of the top 14 defensive seasons in baseball history.
If any fail to win a Gold Glove, do not blame your good friends at the Baseball Writers Association of America. Managers and coaches vote for the awards in each league, and the numbers support what we all see every day: That Simmons, Machado and Gomez are elite.
Start with Simmons, whose 5.4 dWAR would be the best of all time by any player at any position. The late Mark Belanger produced two of the top seven seasons, 4.9 in 1975 and 4.4 in 1968. Ozzie Smith's best was 4.7 in 1989.
How large is the gap between Simmons and other current shortstops? Consider: The Twins' Pedro Florimon is second best at 2.4, and the D-Backs' Cliff Pennington is second best in the NL at 1.8 (in only 49 games).
Then there is Machado, whose 4.3 dWAR would rank ninth all-time and be the second highest among third basemen, behind only Brooks Robinson's 4.5 in 1968.
The Colorado Rockies' Nolan Arenado is next among current third basemen at 3.6. But in the AL, Machado dwarfs the Athletics' Josh Donaldson (1.5) and Rays' Evan Longoria (1.4) - and remember, Machado had never even played third until last season.
Finally, there is Gomez, whose 4.1 dWAR would be the 14th-highest ever and second best by a center fielder, trailing only Darin Erstad's 4.2 in 2002.
The Boston Red Sox's Jacoby Ellsbury would be next among current center fielders at 2.0, and the Pittsburgh Pirates' Andrew McCutchen would be next among NL center fielders at 1.0.
SCIOSCIA READY TO RETURN?
For what it's worth, Mike Scioscia is expressing confidence to friends that he will remain Angels manager. What that means for general manager Jerry Dipoto is not clear.
Fox Sports' Jon Paul Morosi reported last month that the Angels were expected to replace Scioscia or Dipoto, and possibly both. Sciosica is signed through 2018, with annual salaries of $6 million from '16 through '18. Dipoto is signed only through '14.
Firing Dipoto, however, actually would be more disruptive from an organizational standpoint. Assistant GM Scott Servais almost certainly would be replaced as well, and a regime change also would jeopardize Dipoto's other hires in scouting and player development.
A recent report in the Los Angeles Times suggested Padres manager Bud Black as a possible replacement for Dipoto, but the idea seems far-fetched. Black has zero front-office experience, and is said to prefer a position on the field.
While Mike Matheny, Robin Ventura and Walt Weiss have proven that a manager can succeed without prior experience, the GM's position is far more complex. Black is one of the game's sharper minds, but the Angels would be making a huge mistake if one of their prerequisites for the job was being a friend of Scioscia's.
PEAVY AND PEDRO
Red Sox right-hander Jake Peavy dropped his arm slot to low three-quarters in his most recent start at the suggestion of a former pitcher who - to Peavy's surprise - knew him well.
Pedro Martinez.
Martinez and Peavy both pitched in the NL from 2005 to '08. And Martinez, now a special assistant to Sox general manager Ben Cherington, asked Peavy recently, "Why are you up?" referring to his arm angle.
Peavy said he made the adjustment and on Thursday his average fastball velocity of 90.7 mph was his third-highest of the season. His command was off - he matched his season high with five walks - but Peavy also felt his breaking ball was sharper.
But back to Pedro.
"This guy is so attentive," Peavy said. "He watches so much tape. I played with Greg (Maddux), and it took my respect and appreciation for him to the next level. You understand that he didn't just have a good two-seamer and good command.
"I was super-excited to meet Pedro. I really thought in my era, as good as Randy (Johnson) and Curt (Schilling) were, I never saw anybody as dominant as Pedro was in a couple of those years. I started speaking to him as a fan: 'It's an honor to meet you, a pleasure to meet you. Can I get you to sign a ball? I'd love to get a jersey. Can you personalize it?' Then we started talking baseball, started talking shop.
"He starts saying stuff to me about my career. I was like, 'How does this guy know anything about me?' He talked about how he studied other pitchers. It was awesome. And it proved the point. A guy doesn't do what Pedro did in the game of baseball just by having good stuff and command. You have to be a student of the game."
LORDS OF DISCIPLINE
A Yankees coach remarked over the weekend, "(David) Ortiz never swings at balls." Actually, that statement was more factual from 2004 to '07, but Ortiz's plate discipline is still quite good.
Through Sunday, he was swinging at 27.5 percent of the pitches outside of the strike zone, third on the Red Sox behind Daniel Nava (25.7 percent) and Mike Napoli (24.6).
The Red Sox as a team ranked third in the majors at 28.3 percent, behind the Rays (27.1 percent) and Indians (27.9). The Rockies and Brewers swung at the highest percentage of pitches outside the strike zone (33.5), followed by the Miami Marlins (33.3).
AROUND THE HORN
* Keep this in mind when trying to judge whether the Seattle Mariners will dismiss GM Jack Zduriencik, who reportedly is signed through 2014: The M's, according to a source, generally give their GMs low base salaries with the opportunity to earn significantly more in bonuses.
Most GMs earn between $500,000 and $2 million, sources say, and Zduriencik probably is on the low end. He's making utility infielder money, in other words.
* Cubs right-hander Jeff Samardzija rejected an extension of more than $30 million in spring training, according to Jon Heyman of CBSSports.com.
Will it prove a mistake?
Samardzija is still throwing in the upper 90s, but he has a 5.39 ERA in his last 19 starts after producing a 2.85 ERA in his first 11.
* And finally, love that Astros' bullpen, which entered Monday night with a major-league high 37 losses and 82 home runs allowed.
In case you're wondering, the record for bullpen losses in a season is 39 and the record for homers allowed is 92, according to STATS LLC.
* The Braves are delighted with their August waiver claim of infielder Elliott Johnson, who has only a .626 OPS in 65 plate appearances but has filled in capably for second baseman Dan Uggla. Look for Johnson to be back with the club in a super-utility role next season. Scooter.
* Danny Valencia's late surge with the Orioles could make him an appealing option for the Marlins, who will be looking for help at third base this offseason. Valencia was born in Miami, grew up in Boca Raton and attended the University of Miami.