As a backup, Griffin nothing more than a distraction to Redskins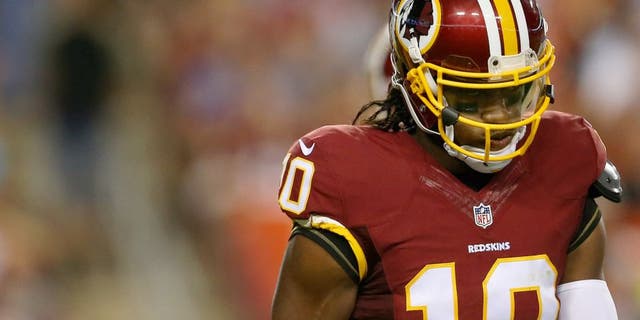 Figuratively, the Washington Redskins are no longer Robert Griffin III's team after the quarterback was benched Monday in favor of backup Kirk Cousins.
The Redskins should now make that point literally as well.
Mind you, the on-going saga between Griffin and Redskins head coach Jay Gruden is entertaining in a train-wreck kind of way. You can't turn away knowing that one of them will inevitably say something publically to rankle the other and keep the media feeding-frenzy humming.
But for the sake of winning games -- and it's been a while for the Redskins -- the drama must end. Once he clears concussion protocol, Washington should let Griffin go if a trade partner can't be found.
This isn't because Griffin should be written off completely as an NFL starter -- even though it's getting closer and closer to that point as memories of his magical 2012 rookie season continue to fade. However, the fact Gruden pulled a Wally Pipp and demoted Griffin while he was injured makes it abundantly clear a rebirth won't be happening in Washington.
Though the immediate salary-cap hit of $6.7 million for releasing Griffin would hurt, it's a necessary evil under the circumstances barring a trade.
Having him around would make it that much more difficult for Washington to move past another tragic chapter in the team's quarterbacking annals.
Cousins already has enough to worry about. Though he has shown signs of improvement this preseason in his second year playing in Gruden's offense, let's not forget that:

* It's the preseason.

* A rebuilt offensive line that did a lousy job in pass protection two weeks ago when Griffin was initially hurt against Detroit will face an even tougher test against Miami and St. Louis in the first two regular-season games.

* Cousins himself was benched midway through last season in favor of Colt McCoy (yikes!) after having replaced an injured Griffin. Following an initial strong showing, Cousins was 1-4 as a starter with eight touchdown passes, nine interceptions and three games with quarterback ratings under 80.0.
Cousin doesn't need to hear the inevitable public cries for Griffin to start playing if he begins to struggle once again. Gruden shouldn't have to worry about whether having Griffin around will be a major distraction capable of engulfing his team. And after several years of RG3-related drama, Redskins players deserve a break from constantly having to give politically correct answers to questions from friends, fans, family and the media about a guy who isn't all that well-liked in the locker room anyway.
Plus, Griffin himself deserves better by having the chance to work with a head coach who actually believes in him.
There are no guarantees Cousins will become the franchise passer the Redskins have sought throughout the Dan Snyder ownership era. Based on how he handled the Griffin situation and last year's 4-12 record, there are major doubts about whether Gruden can become a successful head coach.
But this much we know: Griffin isn't part of Washington's short- or long-term future. The quicker team management accepts that, the better off everyone will be.