Artem Lobov: It makes no difference to me who I fight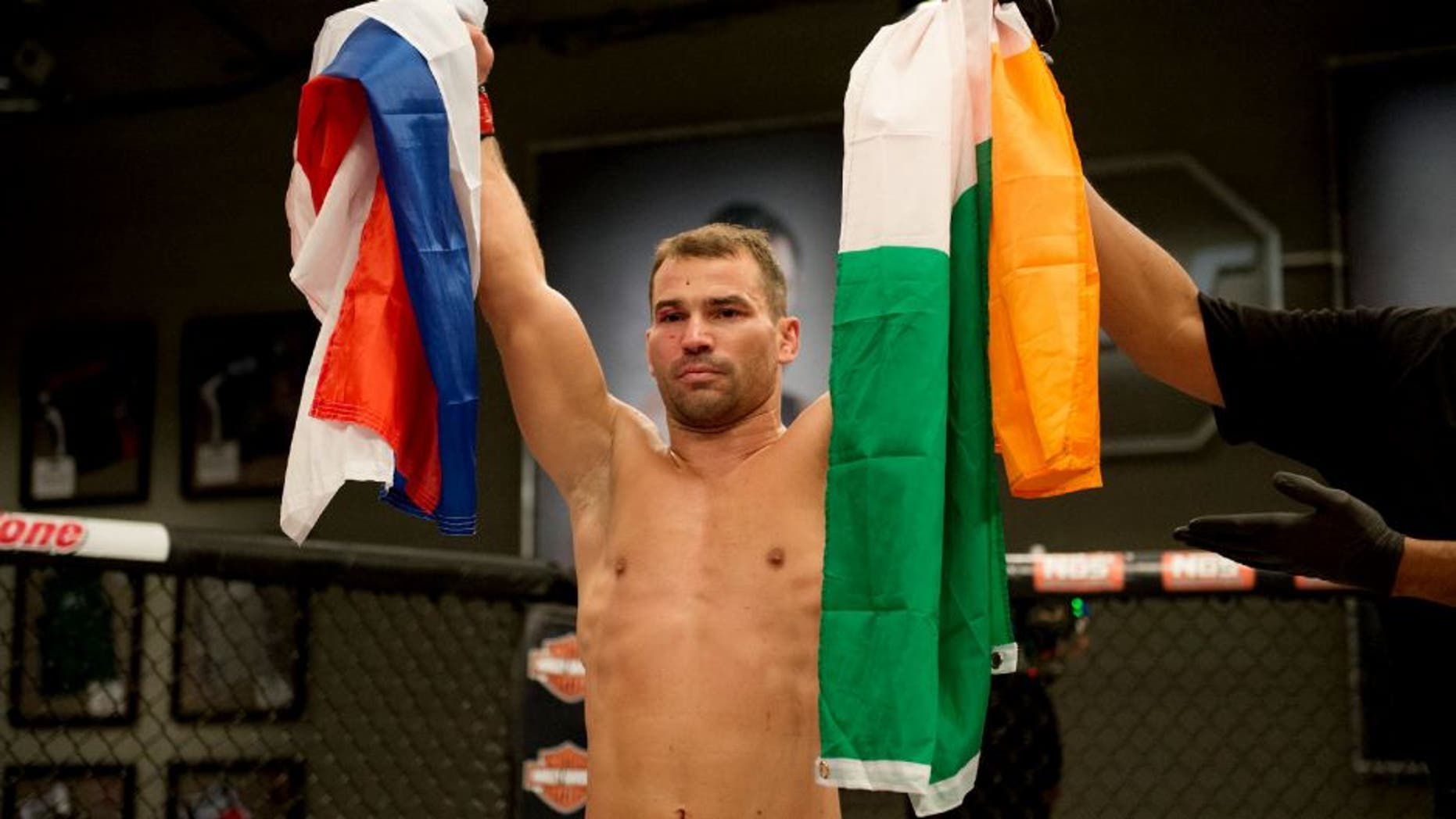 Artem Lobov has been waiting four long years to finally avenge a split decision loss to Saul Rogers, but just when it appeared he would get his chance, a visa issue axed their fight at "The Ultimate Fighter" Finale on Friday in Las Vegas.
According to UFC president Dana White, Rogers lied on his visa application to get into the United States and he was ultimately denied entry so the promotion was forced to pull in semifinalist Ryan Hall to replace him on late notice.
Lobov promises the switch of opponents doesn't bother him although he was anxiously awaiting the chance to face Rogers for a second time.
"It makes no difference to me who is there," Lobov told FOX Sports. "Like I said to the UFC when they emailed me about the opponent change. I said 'listen, I'm going to be there Dec. 11, if there's a tiger there in the cage with me then I'll fight the tiger. It makes no difference to me who I fight.
"Obviously, I wanted the rematch with Saul. This is the only way I could have gotten the rematch, since we're in the same gym at the moment, but it doesn't change anything for me. I will be there and I will put on a show for the fans."
At this stage, Lobov isn't sure the rematch with Rogers is ever going to happen but it's something he would certainly accept if offered.
Whether or not it happens, remains to be seen but Lobov still wants to get his revenge if the fight with Rogers could finally take place.
"I would definitely be interested in the rematch," Lobov said. "I have chased Saul for many, many years. I looked for that rematch. He changed weight classes to try and get away from me. I said I would fight him at any weight, it made no difference to me. He joined SBG in order to avoid me. So we'll have to kind of settle with that one and this was the only way I was able to get that rematch through "The Ultimate Fighter".
"I think it was destiny in a way or something and I was really looking forward to it. I would definitely be interested in the rematch down the line if it were to happen but I'm not going to pursue anything. I have my reasons to fight every single guy on the UFC roster so I'll have plenty of fights there."
Lobov's problem with Rogers was always about business and that's no different with the matchup he now has against Hall.
If anything, Lobov might like Hall even more after the two fighters trained together following the conclusion of the show. Hall traveled to Ireland to work with Lobov's team at the SBG gym in Dublin before they knew they were actually going to face each other.
Lobov doesn't have a bad word to say about Hall, but that doesn't mean the Brazilian jiu-jitsu black belt isn't going down just like he planned for Rogers.
"I have trained with him. He actually came over here and obviously at the time we didn't know we were going to be fighting each other. He showed me some nice moves on the ground, some leg lock defenses and attacks and I showed him some striking techniques. I enjoyed training with him and we will probably train again in the future no matter how the fight goes," Lobov said.
"I honestly really like Ryan Hall. There's nothing bad I could say about this guy. I have a lot of respect for his skill and the way he applies it, but I think in terms of MMA he's still an amateur. He's only learning and I will look to explore that. Once I get my hands on you, you won't be able to survive that. I certainly don't think he'll be able to survive that. You saw Saul Rogers drop him and Saul doesn't drop people and then you saw what I do to other guys who have never been knocked out before. So when I get my hands on him, he's going to know all about it."
Lobov never makes his fights personal because his job is to go into the Octagon and beat whoever is standing in front of him. When it's time to fight, Lobov just goes to the office and looks to knock the head off his opponent whether it's friend or foe.
"I don't really care who is there. In the past, my conversations with the matchmakers in the past have been very short. In fact they have only been one word -- yes," Lobov said.
"I don't care who I fight. It's the same here. Whether I like them or I don't like them, it makes no difference for me. Whoever is standing across the cage from me, that's who is going to go down."