Arte Moreno justifies the Angels' lack of offseason spending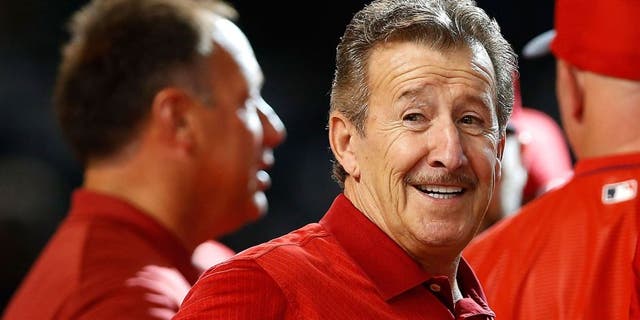 Despite a glaring need for an everyday left fielder, and plenty of free agent options this offseason, the Los Angeles Angels decided not to splurge.
Instead, they signed Craig Gentry and Daniel Nava, presumably as a platoon, hoping to improve on their league-worst .592 OPS in left field last season.
The biggest factor, as it's been reported, was the unwillingness to exceed the $189 million luxury-tax threshold. Signing one of Yoenis Cespedes, Dexter Fowler, Alex Gordon, Jason Heyward and Justin Upton would have pushed them over that mark, imposing a 17.5 percent penalty.
Owner Arte Moreno, however, refuted those reports in an interview with Alden Gonzalez of MLB.com.
"It has never been about that," Moreno said. "It has never been with the threshold."
Moreno continued: "We have a budget. And every year, I've overspent our budget."
The payroll is a bit top-heavy in 2016 -- Jered Weaver and C.J. Wilson will make a combined $40 million, Albert Pujols will earn $25 million and Josh Hamilton will be paid $22 million.
"The reality is it's a business," Moreno said. "And right now the economics don't add up for us to go invest that kind of money."
This, of course, is also the first offseason for general manager Billy Eppler. He replaces Jerry Dipoto (who has since taken the reigns in Seattle) who may not have had the best relationship with Moreno -- he said as much earlier in the day on Friday.
It'll be interesting to see how the owner-GM relationship changes in terms of roster makeup, but for now, Moreno is content with keeping his flexibility for future seasons.
"Does one of these guys give us a better chance to win? Sure they do," Moreno said of the big free agents. "But the reality is, are they a guarantee? And what we end up with is we end up with debt, we end up paying tax, and then it restricts what our flexibility is going forward."
For what it's worth, Gonzalez also reported Friday that the Angels made a push for Cespedes at the deadline, showing Moreno's willingness to make moves without a long-term impact:
As it stands, the Angels' projected payroll stands at $165 million.