Art Briles felt Bears got 'butt beat' when up 20 to Red Raiders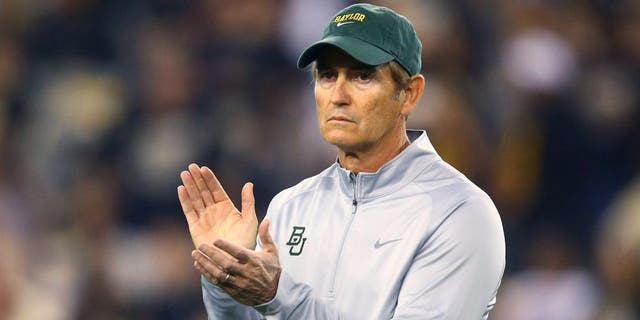 NEWYou can now listen to Fox News articles!
Baylor effectively steamrolled Texas Tech in Arlington on Saturday, racking up 63 points without a hitch. But don't tell Bears coach Art Briles that. He believes his team got outplayed by Kliff Kingsbury's high-powered Texas Tech squad.
Here of some of Briles postgame quotes regarding Texas Tech:
"Tremendous amount of respect for Texas Tech. I think it's pretty evident that Kliff Kingsbury and his staff got Tech on the right path," Briles said. "If you can do what they've done so far, I think they've done a tremendous job. Texas Tech AD Kirby Hocutt and all of West Texas should be pleased, because they've got a good person leading their team."
With that said, Briles was not particularly happy with is team's effort once they seized control.
"We stood right out there on that field and got our butt beat when we were up 20, and they were not as explosive as Texas Tech," he said. "We we had to push the lead out before we really felt comfortable."
(h/t Dallas Morning News)