Arsenal forward Sanchez criticizes Uruguay after Chile's heavy defeat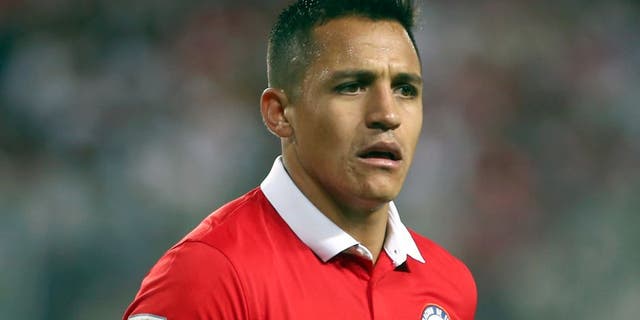 Alexis Sanchez has hit out at Uruguay after Chile were hammered 3-0 in Montevideo on Tuesday, saying the hosts were as bad as winners as they were as losers.
Sanchez was an injury doubt before the match, but played the full 90 minutes in a bad-tempered encounter in which four players from each side saw yellow, including the Arsenal forward.
Chile midfielder Jorge Valdivia was sent off after the final whistle, apparently for words said to Colombian referee Wilmar Roldan.
Sanchez then took to Instagram after the defeat, Chile's first since winning the Copa America in July, to congratulate the Uruguayans.
He somewhat undermined his comments, however, by criticizing them for a lack of grace.
"You need to know how to win and how to lose and I speak when I win and when I lose," he wrote.
"But what annoys me about past and present and other Uruguayan players ... is that they speak without acknowledging that they've lost.
"Today we lost and I congratulate them ... it's goodbye from the champions of the Americas."
In spite of the niggles from both sides on Tuesday, there was no repeat of the skulduggery that marked the Copa America encounter between the sides in June.
Chile won that game 1-0 on their way to lifting the title for the first time but the match in Santiago was overshadowed by the red cards shown to Uruguayans Edinson Cavani and Jorge Fucile.
Cavani reacted in the most innocuous of manners when Chilean defender Gonzalo Jara stuck his finger up Cavani's backside and was shown a red card. Fucile was sent off near the end for a tackle that was robust but not malicious.
Uruguay have harboured a grudge ever since, with centre-half Diego Lugano threatening to teach Jara, who was also banned after an appeal, a lesson.
Lugano was left out the squad for the game and it was perhaps just as well as Uruguay's three goals all came from defenders.
Godin got the first midway through the first half, Alvaro Pereira scored with a header in 61 minutes and Martin Caceres sealed the victory with another header three minutes later.
The win helped Uruguay to nine points from four games and their best start to a World Cup qualifying campaign since 1989.
Uruguay sit second in the table behind the runaway leaders Ecuador, while Chile are fifth in the 10-team table with seven points.