Arsenal are in a battle for the top 4: How worried should they be?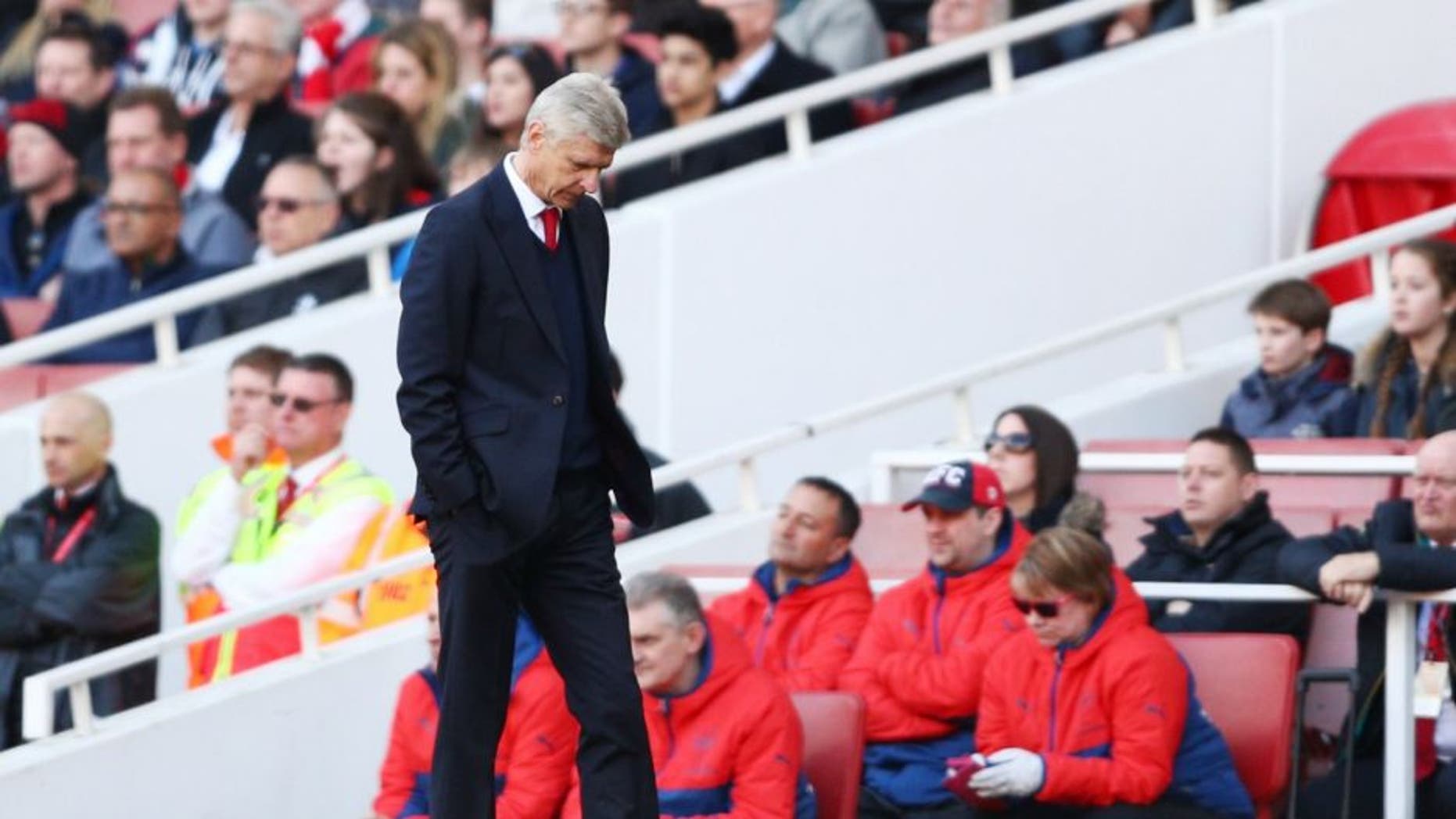 This was supposed to be the season that Arsenal finally won the Premier League. Chelsea, Manchester City and Manchester United were all down and out of the race. The door was wide open for the Gunners. All they had to do was beat out Leicester and Tottenham, which they do year-in, year-out.
And yet here we stand with five matches to play and Arsenal aren't just out of the title race. They find themselves in fourth place - level with City on points, but behind on goal difference - and in a battle to keep a Champions League place. That's the result of their disappointing 1-1 draw with Crystal Palace, who took points off the Gunners in the Premier League for the first time ever on Sunday thanks to Yannick Bolasie's 20-yard strike that Petr Cech somehow let beat him at the near post.
With the title race out of the picture, Arsenal are forced to reassess their goals for the run-in. Their most ambitious aim could still be to finish ahead of Spurs, but even that looks unlikely at this point. And that means focusing all their energy on keeping a Champions League spot, because that's all they really have left.
The Gunners hold a four-point lead over Man United, their only real threat for fourth. So will Arsene Wenger's men keep their place in the top four?
Arsenal's run-in
Home to West Brom - It's been more than a month since West Brom won a match. They're a mediocre team in bad form so Arsenal shouldn't have an issue winning this one.
Away to Sunderland - These are the difficult matches to figure out. The Black Cats are terrible, but they're in a relegation fight and have their Premier League lives to play for. Sunderland may be bad, but their effort will be unmatched and the Stadium of Light should be loud. This looks like a classic case of a team battling to stay up snagging a win over a far superior side.
Home to Norwich - Another match against a relegation battler presents many of the same problems for the Gunners that they will have faced against Sunderland. But this one is at the Emirates and it's tough to imagine Arsenal losing both. This probably won't be a pretty match, but Arsenal will walk away with three points.
Away to Manchester City - The timing of this match couldn't be better for Arsenal. Manchester City will be just four days removed from the second leg of their Champions League semifinal against Real Madrid and should be a few points ahead of the Gunners so their top four place won't be in too much question. Manuel Pellegrini's men will be a little tired and while this match is at the Etihad, Arsenal should be able to nab a point.
Home to Aston Villa - If there is anything left to play for on this day, Arsenal will be happy to have their easiest match of the season. Aston Villa at home is as close to a guaranteed three points as there is.
Projection: Arsenal take 10 points from their final five matches, putting them on 70 for the season and, along with the Gunners' edge in goal difference, forces Manchester United to win all five of their remaining matches.
Manchester United's run-in
Home to Crystal Palace - This is the same match that Arsenal just made a mess of, but you wouldn't think that Man United would have the same problem. The Red Devils will probably be unimaginative and unwatchable, but they should still take all three points.
Home to Leicester City - Taking on the league leaders will be difficult and the Foxes have played well away from home. The question is whether Jamie Vardy will play. He's going to be looked at for improper conduct for his words to the referee after being sent off against West Ham and could get a second match ban, which would keep him out of the contest. Splitting the difference and calling this a draw for now seems wise.
Away to Norwich - Playing away to a relegation battler is never fun. Norwich haven't looked good the last two weeks, even accounting for them being a bad team, and they have only won one of their last eight home matches. As tempting as it is to pick the Canaries to snag points here, United probably win.
Away to West Ham - Undoubtedly the toughest match left on Man United's schedule, it's tough to imagine the Red Devils winning at Upton Park. Whether Dimitri Payet burns them on a free kick or Andy Carroll stumbles into a goal, the Hammers will probably walk away winners.
Home to Bournemouth - Man United get to finish the season at home against a bad team in Bournemouth who are clear of the relegation fight and will have nothing to play for. Chalk up a win for the Red Devils.
Projection: Manchester United match Arsenal, taking 10 points from their final five matches. That would put them on 66 points and behind the Gunners.
Verdict
If Vardy is suspended when Leicester go to Manchester United, the Red Devils might win that match, but even that leaves them a projected two points behind Arsenal. But if the Gunners lose at Manchester City or somehow manage to lose points somewhere else - not out of the question considering their tendency to stumble when all looks clear - then maybe Manchester United could jump Arsenal.
Arsenal's season has been an unqualified disappointment and questions about Wenger's future will be asked yet again, but they shouldn't have too much issue holding onto their Champions League place. After all, no matter how many issues they have each season, the Gunners always manage to stay in the top four.