Aric Almirola suffers back injury following Kansas crash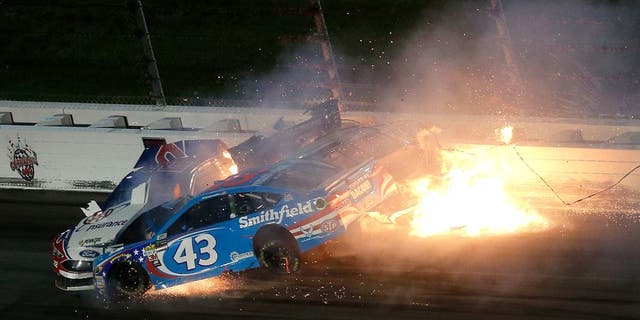 Aric Almirola suffered a compression fracture on his T5 vertebra in a fiery crash Saturday night at Kansas Speedway, a spokesperson for Richard Petty Motorsports said Sunday morning.
The good news is that Almirola has been released from a Kansas hospital and will fly home to Mooresville, N.C., today, the team said, noting that Almirola is mobile andwill follow-up with his doctors in Charlotte.
Under the circumstances, thats about as good a news as can be expected following the horrific crash.
The incident occurred just after a restart on Lap 199 of the 267-lap Go Bowling 400 at Kansas. It appeared that the right-front brake rotor on Joey Loganos Team Penske Ford exploded in Turn 1 while he and Danica Patrick were racing for 11th place.
Loganos damaged car turned left and hit Patrick, putting them both into the wall. Almirola, who was about 10 cars back couldn't stop and hit Loganos car at a high rate of speed in Turn 2.
Patrick and Logano were seen at the tracks infield care center and were released uninjured, but rescue workers had to cut the windshield and roof of Almirolas car to extricate the injured driver during a 27-minute red flag period.
From there, Almirola was airlifted by helicopter to University of Kansas Medical Center where he spent the night.
A Richard Petty Motorsports representative said in a e-mail to FOXSoorts.com that the team will not know when Almirola will be able to return to the cockpit until after he meets with his doctors in Charlotte later this week.