Argentine soccer fan dies after attack and fall over stadium's edge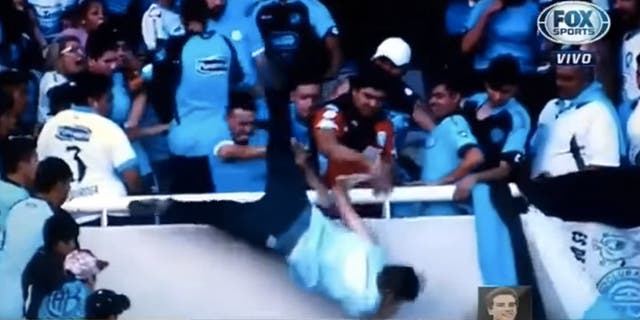 A fan of Belgrano in Argentina has died after an incident where other fans attacked him in the stands.
Emanuel Barbo fell to his death after he was allegedly forced over the railing on Saturday after trying to get away from a group of men attacking him. The incident happened at Belgrano's 1-1 draw with Talleres Cordoba.
Barbo was in a coma for days, but the club confirmed on Monday he died.
"On a very sad day for the sky blue family, Belgrano asks for reflection and peace as we work with authorities to ensure that justice is done for Emanuel, the club said in a statement.
Disturbing video footage shows Barbo rushing toward the staircase to avoid the men punching him before he falls over the railing.
Balbo's father says his son was attacked by a mob after he faced off with a man that Balbo blamed for killing his brother.
Four arrests have reportedly been made in Barbos death.
The Argentine federation condemned the violence and vowed to make security forces available to ensure such incidents wont happen again.
Information from the Associated Press was used in this report.
MORE FROM FOX SOCCER