Are we in for Bama-LSU BCS rematch?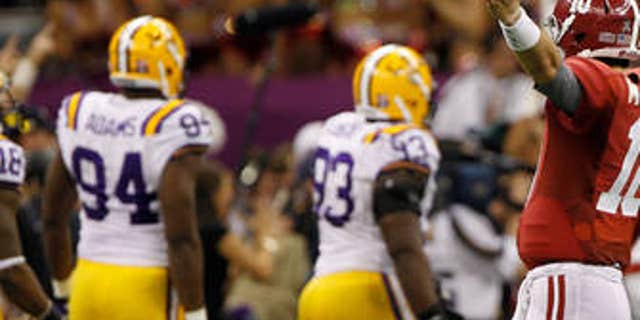 Chaos moves us closer to a title game rematch we'd rather not see, Texas surprises, Stanford falls and more from Week 7.
Please understand something: This isn't the preference of anyone, not even the authors of Internet football columns.
But late Saturday evening, after Georgia and Michigan and Stanford all plummeted from the sky, the atmosphere out in the distance seemed to be rapidly changing, presenting a little situation. Powerful forces began to align themselves for an ultimate collision, and a chilling thought arrived:
As hell broke loose across large swaths of Week 7, did we move closer to another Alabama-LSU rematch in the BCS National Championship game?
After seven weeks of football, it wouldn't seem so. Too many other good teams exist for the voters to deliver that again. Right?
When LSU and Alabama ranked first and second, respectively, in the polls entering Week 8 in 2011, it didn't seem likely either. They still had to play each other, and one would naturally subtract the other from the title discussion. Simple mathematics will, we presumed, have its way in a sport that relies on computers, in part, to pick its champion.
Of course, the rematch did happen, and luckily we have that recent history to study. Is the 2013 season going to trace those same steps and give us Tide-Tigers twice? I hope not, but let's look at how it happened and see if there are any similarities this season.
The situation entering Week 8
In 2011, the top eight teams were all unbeaten and ordered like this: LSU, Alabama, Oklahoma, Oklahoma State, Boise State, Wisconsin, Clemson, Stanford.
This season, we have eight unbeaten teams ranked in the AP top 10: Alabama, Oregon, Clemson, Ohio State, Florida State, Louisville (No. 8), UCLA (No. 9), Miami (No. 10). LSU, with one loss, sits at No. 6.
How did we get to the Alabama-LSU rematch in '11? This way.
The SEC East became a non-factor in the title discussion
At this time in 2011, South Carolina (No. 14, 6-1) was the only team from the Eastern division in the top 25.
Georgia opened the season at No. 19 but lost its first two games of the season - to Boise State at the Georgia Dome and at home to South Carolina - and then lost to LSU in the SEC title game. The Bulldogs would also lose to Michigan State in the Outback bowl, finishing 10-4.
Florida began the year at No. 22 but saw its entire world collapse beginning in Week 5. The Gators' next four games: home loss to Alabama, loss at LSU, loss at Auburn, loss to Georgia in Jacksonville. It would also lose to South Carolina and Florida State before beating Ohio State in the Gator Bowl to finish 7-6.
The Gamecocks, meanwhile, had a good season, finishing 11-2 and 6-2 in the SEC. But a loss to Auburn in Week 5 and Arkansas in Week 10 left it with two SEC losses and thus out of the SEC title game since Georgia had only one. This quickly cut the nation's top conference in half for the purposes of evaluating national title contenders.
What's happening this season? Something of the same. By losing to Missouri at home Saturday, Georgia suffered its second loss of the season. Even if it wins out - which is iffy, considering it's banged up and still has Florida and a road game at Auburn on the slate - complete chaos would have to ensue for a two-loss team to make the championship game. Probably not likely.
Florida is in a similar position at 4-2 with games against UGA, South Carolina and Florida State remaining. There's probably a third loss somewhere in there for the Gators.
Missouri, at 6-0 and 2-0 in the SEC, certainly seems to be in a great position, but not when you consider it lost quarterback James Franklin, who suffered a separated throwing shoulder against UGA, for the remainder of the regular season. The next two weeks for Mizzou bring Florida and South Carolina to Columbia, and Texas A&M visits to end the season. A trip to Ole Miss awaits before A&M. I can't see any way the Tigers don't lose at least two of those without Franklin; three losses is probably most likely.
A wild card? Same as in 2011 - South Carolina. The Gamecocks are 5-1 (3-1 in SEC) but have Florida and Clemson left. If it wins out - and UGA loses a second SEC game - South Carolina would have a potential title shot by winning the SEC championship game. I don't see that scenario unfolding, though.
That would clean out the SEC East, thus removing a couple internal hurdles for Alabama and LSU to clear. As was the case in 2011, they then just needed to wait for the rest of the country to trip over itself, with the exception of one conference pothole.
LSU and Alabama had to both escape one other quality SEC West team
In 2011, it was Arkansas, which lost to Alabama in Week 4 and LSU in the final week of the regular season.
This season, that SEC West pothole is Texas A&M, which lost to Alabama in Week 3 and goes to Baton Rouge in the second-to-last week of the regular season.
OK, now Bama and LSU must wait out the rest of the nation. How did that occur in 2011?
The Big 12 took care of itself
Oklahoma was ranked No. 3 at 6-0 entering Week 8, but then it lost to Texas Tech that week, lost at Baylor in Week 12 and then again to Oklahoma State in the final week of the regular season.
Oklahoma State got all the way to Week 12 undefeated (10-0) but then lost in overtime at Iowa State. It would blow out Oklahoma to end the regular season at 11-1.
You could argue that the Pokes deserved its shot at LSU given they and the Tide both finished 11-1, but two issues: 1) their loss wasn't a "good" loss (as dumb as that logic is, it matters to some voters) 2) OSU lost two weeks later than Alabama, which means everything in terms of positioning in the BCS. We see it nearly every year: It's possible to overcome a loss if it's early enough in the season. You can't, however, lose late.
Kansas State was also 6-0 at this point in 2011, ranked No. 11, but then it lost to Oklahoma and OSU in consecutive weeks and was never back in the picture.
Heading into Week 7 this season, Oklahoma seemed to be aligning itself for the title race, but then it got whacked by Texas in the Red River Rivalry. And if the Longhorns are going to be doing that after how awful they've looked so far this season, is that an omen the Big 12 contenders will beat each other up?
Baylor has the firepower to go undefeated, but it has Oklahoma, Texas Tech, Oklahoma State and Texas still on the schedule. Red Raiders? If they don't lose at Oklahoma in two weeks, they might against Baylor or at Texas. For Oklahoma to make a title case, it would need to win out and also have Texas miraculously finish strong - but with the tiebreaker over the Sooners, a "strong" finish would make the Horns Big 12 champs, which isn't going to work for OU.
The best bet for the Big 12 getting into the title game is Baylor going undefeated, which would be a surprise, even knowing how good the Bears are. Moving on.
The Big Ten's one contender wasn't in the title discussion for long
Wisconsin was 6-0 and ranked No. 6 entering Week 8 two seasons ago but would then lose to Michigan State and Ohio State in consecutive weeks. It'd face Michigan State in the Big Ten title game, beat it and then get beat by Oregon in the Rose Bowl.
Michigan State had a chance to rise, but it lost to Nebraska the week after beating Wisconsin, giving it two losses (including a Week 3 loss at Notre Dame).
This year's case is a little different with Ohio State. It's unlikely the Buckeyes lose, but they might be removed from the title discussion by default because their schedule is so bad.
I thought the Buckeyes might have a chance if Northwestern rebounded from the OSU loss last week to finish with one loss and Michigan remained undefeated until the final week of the season when it welcomes Ohio State to Ann Arbor. Well, Northwestern was embarrassed by Wisconsin on Saturday, and in State College, Penn State delivered Michigan a loss that's been brewing for weeks.
So, fairly or unfairly, I'm not sure how this works for Ohio State. A one-loss SEC team would almost certainly get the title game nod over the Buckeyes, it seems. What about the ACC?
The ACC didn't have the depth to support a one-loss team
In 2011, Clemson was undefeated entering Week 8 - and had beaten Virginia Tech, its biggest league rival for a potential title-game berth - but then fell apart, losing three of its last four regular-season games (at Georgia Tech, at NC State, at South Carolina). It beat Virginia Tech a second time in the ACC title game and then got smoked by West Virginia, 70-33, in the Orange Bowl.
Virginia Tech sniffed the title discussion - reaching No. 5 entering Week 13 - but was never really in it with its loss to Clemson in Week 4 and then again in the league title game. It'd go to the Sugar Bowl and lose to Michigan.
This season, Clemson and Florida State seem much better than either Clemson or VT was in 2011, but there still is zero room for error in the ACC. The winner of Clemson-FSU next week is the best hope for getting in the way of a SEC-SEC championship game, but that team must be undefeated.
It won't have the resume to stand up to a one-loss SEC or Pac-12 team. If Clemson beats FSU, it has potential trap games at Maryland and Virginia in consecutive weeks and then, of course, ends the season at South Carolina. Any loss would eliminate it from the title talk. If FSU wins next week, it still has Miami and Florida on the schedule.
This would also assume the Clemson-FSU winner isn't upset in some other wacky league game, which could be a dangerous presumption.
The one underdog title contender had its hopes crushed
It was Boise State in 2011, which lost to TCU in Week 11. This year it's Louisville, which may not lose but has no chance of getting into the title game.
I'm trying desperately to find a way the Cardinals get in because we should philosophically oppose any system in which you can win every game in your season and not even have a chance to be a national champion - what's the point of even playing, then? - but I don't see it. If Louisville could borrow Boise's season-opening win against Georgia in the Georgia Dome from two years ago, maybe that'd be a start.
But, of course, it cannot, and when the narrative building up to a nationally televised game against RUTGERS is that you'd "finally be challenged" - and, sadly, Louisville was - I think we're done discussing national championship berths.
One of the two Pac-12 powers has to come through
In 2011: Stanford rose to No. 4 in Week 11 but then lost to Oregon, finishing the regular season 11-1 and headed for the Fiesta Bowl, where it lost to Oklahoma State.
Oregon lost its season-opener to LSU in Arlington then ran off nine straight wins (Stanford was No. 9) before losing to USC. Because of the tie-breaker over Stanford, it went to the Pac-12 title game and beat UCLA for a trip to the Rose Bowl.
Stanford's problem may have been one of technicality. Voters might have theorized, "We can't take the second-place team from a league whose champion has two losses." Alabama was the second-place team from a league whose champion was undefeated (who also beat the champion of the Pac-12). Is this some warped logic? Perhaps. I'm not defending it, just trying to think through the process.
This year, Stanford has a loss but could still spoil Oregon's title hopes by winning out and representing the North in the Pac-12 title game (presumably a second meeting with UCLA). If Stanford won, it probably goes to the Rose Bowl with Oregon going back to the Fiesta. If it lost, UCLA goes to the Rose Bowl and two-loss Stanford probably doesn't go to a BCS bowl (and one-loss Oregon bears a loss to said two-loss Stanford).
Assuming Oregon beat UCLA, I'd buy a scenario sending one-loss Oregon to the title game over a one-loss SEC team. But then we would also find ourselves back in a similar situation in which some funky voter logic could squeeze out a one-loss Pac-12 team.
So, how do we avoid an Alabama-LSU title rematch this season?
A few ways: Alabama beats LSU, giving the Tigers two losses; Oregon goes undefeated, making this entire column moot; the Clemson-FSU winner goes undefeated; UCLA, however unlikely, goes undefeated.
Please, football gods, allow one of those things to happen.
QUICK TAKES FROM WEEK 7
The biggest Texas story is its defense: The talk will revolve around Mack Brown and the partial alleviation of his hot seat after the Horns beat Oklahoma. But the more relevant takeaway, in terms of this season, is how the Horns' defense played against the Sooners. Texas made OU quarterback Blake Bell a nonfactor - he went 12-of-26 for 133 yards and two interceptions - and held the Sooners to 3.9 yards per attempt on the ground. That's the same personnel, mind you, that allowed 550 yards rushing to BYU earlier this season. If this is the Greg Robinson Texas defense, the Horns can hang with the league's better offenses.
Video: Highlights: (12) Oklahoma vs. Texas
Nov. 7 is suddenly a bit less interesting: What a Thursday night that was going to be with Oklahoma at Baylor and Oregon at Stanford. Those games will still be great, but the magnitude will be a bit less with OU and Stanford suffering losses in Week 7.
A positive development for Georgia: Not much will make this week better for the Bulldogs after losing to Missouri, but they shouldn't overlook the way freshman running backs J.J. Green and Brendan Douglas are playing in the absence of Todd Gurley and Keith Marshall. Green rushed for 87 yards on 12 carries against the Tigers and also caught five balls for 42 yards. Douglas had 70 yards rushing on 14 carries and 43 yards receiving on six catches. On the season, Green is averaging eight yards per touch, and Douglas a tick less. It's no consolation for a loss, but UGA's backfield looks bright beyond the top two Dawgs.
The latest in the world of Clowney: There was a pregame report that Clowney didn't ride the team bus to South Carolina's game against Arkansas, which turned out to be false. It's the latest example of how ridiculous the spin cycle can become on some stories. Clowney played, the Gamecocks won 52-7 and now we might be able to move on. Meanwhile, here's Steve Spurrier at the postgame podium: "I feel badly for Arkansas. It's no fun getting your butt beat like this at home, homecoming and all that."
Oh, yeah, LSU can still play defense: QB Zach Mettenberger and LSU's rejuvenated offense have deserved all the praise they've received this season, but against Florida, we were reminded Les Miles teams make their bones on defense. LSU held Florida to 240 yards - about 128 yards less than UF's season average - and took away every inkling of the Gators' passing game. The Tigers' are fine-tuning for Nov. 9 against Bama, it seems.
Video: Highlights: (17) Florida vs. (10) LSU
THE BUZZER
Five mostly irrelevant things that happened this week.
This isn't very courteous: Apparently the urinals at Husky Stadium had rubber ducks in them on Saturday for the Oregon game.
Husky Stadium urinals today. Poor Ducks. pic.twitter.com/YtGBArUysD
-- Ramzy Nasrallah (@ramzy) October 12, 2013 In a sublime display of delusion, some Penn State fans built a vigil for Joe Paterno's vacated victories .
Les Miles was asked about hammers and nails and stuff after beating Florida. Then this:
Mr. McCoy, Mr. Striker. Mr Striker, Mr. McCoy.
Everything you need to know about what Saturday felt like for Arkansas fans in one photo .
NOTES FROM THE NATION
An assortment of links from around Week 7 in college football.
SEC
Jadeveon Clowney gave a sideline pep talk and South Carolina smoked Arkansas, writes Ryan Wood.
Aaron Murray and Georgia ran out of tricks against Missouri , writes Chip Towers.
Missouri had a historic day between the hedges , writes Dave Matter.
Freshman Jeremy Johnson had a nice day for Auburn, but Nick Marshall is still the starting QB , writes Brandon Marcello.
Alabama blew out Kentucky and has hit the halfway mark of its season unbeaten , writes Andrew Gribble.
For the second straight year, Texas A&M escaped an upset at Ole Miss , writes Kate Hairopoulos.
LSU's defense led the way as the Tigers muscled past Florida , writes Jim Kleinpeter.
PAC-12
Marcus Mariota wa superb again and Oregon beat Washington for the 10th consecutive year , writes Ryan Thornburg.
Despite back-to-back losses, Washington still has a lot to play for , writes Adam Jude.
Stanford was stunned in Salt Lake City , writes Tom FitzGerald.
The Utes earned their first signature win of the Pac-12 season, writes Lya Wodraska.
UCLA beat Cal and now prepares for consecutive road games at Stanford and Oregon , writes Chris Foster.
Oregon State ran away from the Cougars in the fourth quarter, writes Lindsay Schnell.
BIG 12
Gabe Ikard felt something no Oklahoma senior has - what it's like to lose to Texas , writes Jenni Carlson.
By beating Iowa State, Texas Tech became bowl eligible , writes Don Williams. Tech obviously has its sights higher than just any bowl game.
After beating Oklahoma, Mack Brown should announce his retirement , writes Kevin Sherrington.
When Baylor finally needed to grind out a victory, it did that against Kansas State , writes John Werner.
Ugly or not, there was some beauty in TCU's first Big 12 win at home , writes Stefan Stevenson.
BIG TEN
Penn State stunned Michigan in four overtimes on a Bill Belton TD, writes Travis Johnson.
You can blame Michigan's loss on the coaches , writes Shawn Windsor.
Michigan State found its missing hammer and pounded Indiana , writes Drew Sharp.
Wisconsin found a way to beat Northwestern after losing receiver Jared Abbrederis to a head injury , writes Matt Velazquez.
The Wildcats got a good punch in the face , writes Teddy Greenstein.
ACC
Clemson relied on its defense to beat Boston College , writes Ed McGranahan.
Virginia Tech beat Pitt for its sixth straight win , writes Mike Barber.
Maryland escaped Virginia on a late missed field goal , writes Alex Prewitt.
While falling to Syracuse, NC State also lost another quarterback , writes Joe Giglio.
Anthony Boone returned for Duke and set a career-high in passing yards , writes Laura Keeley.
OTHERS
Who had a better day than Terry Baggett? The Army running back rushed for a school-record 304 yards against Eastern Michigan.
Houston beat Memphis to move to 5-0 for the fourth time in school history, writes Joseph Duarte.
Ball State used a late TD to move to 6-1 and stay undefeated in the MAC , writes Ben Breiner.
Northern Illinois held off Akron to remain undefeated , writes Ross Jacobson. The Huskies held steady at No. 23 in the AP poll this week.