Are the Warriors unbeatable? Spurs' Ginobili says yes indeed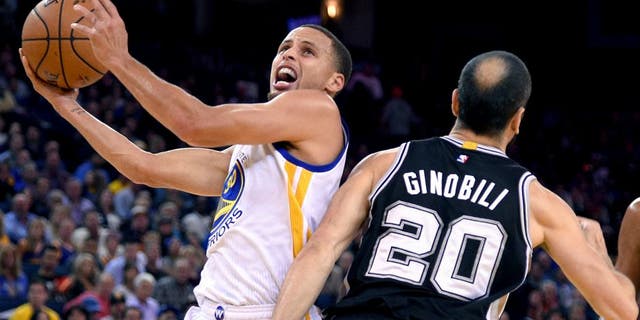 The San Antonio Spurs are 45-8, on a historical pace to win 70 games and go down as one of the best regular season teams in NBA history. That's amazing.
Even more amazing? One of their most important players, Manu Ginobili, doesn't think they're the best team in the league. In fact, he's not sure the top squad, a 48-4 Golden State Warriors juggernaut, are even beatable (via La Nacion and Pounding the Rock):
The Warriors trounced the Spurs by 30 points on January 25. Tim Duncan didn't suit up for that game, but there's little reason to believe he could've stopped the bleeding. Golden State has Stephen Curry on its roster. He's the best player in the world -- easily the greatest shooter ever -- with transcendent range that makes defending him all but impossible.
Can San Antonio take down Golden State in a seven-game series? Sure, it's sports. Anything is possible. And even though Ginobili wrote these words today, that doesn't mean he'll maintain a fatalistic outlook midway through a playoff series.
The Spurs are the Spurs, which means counting them out is the dumbest thing you can do. Right now, they have their own superstar in Kawhi Leonard, and the best defense in the league. If healthy, they have as good a chance as anyone at slowing Curry's Warriors down.
The Basketball Gods need to let that series happen. Please. The world begs for it.