Are the Rams a sleeper playoff team in 2015?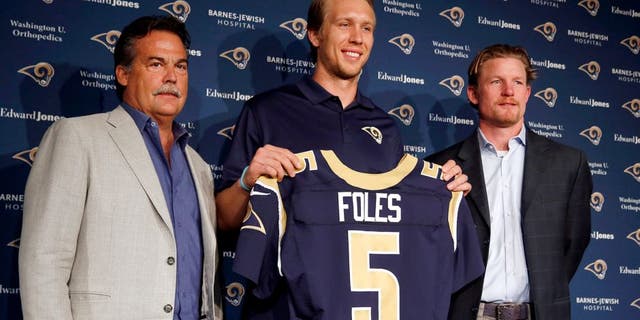 It's hard to imagine the Seattle Seahawks not winning the NFC West in 2015.
This begs the question: Can the St. Louis Rams nab one of the two wildcard spots in the conference to qualify for the playoffs in 2015?
When looking at the Rams' schedule, they face an uphill battle to start the season vs. Seattle. Outside their six games against familiar opponents, they face the AFC North and NFC North - divisions that are no slouch, either.
But do not discount this roster. Adam Schein of NFL.com pegs the Rams as one of 12 potential sleeper playoff teams. He mentions, of course, the defense, which starts up front. Opponents trying to stop Robert Quinn, Aaron Donald, Michael Brockers and Chris Long (and offseason addition Nick Fairley) are going to have a difficult time. Selecting Todd Gurley gives the Rams an intriguing backfield combo, along with Tre Mason.
However, major question marks remain.
Which Nick Foles will the Rams get under center (2013 vs. 2014)? Can the offensive line come together and form a cohesive unit right away (at least two new starters up front)? Will the offense be consistent enough to produce on a weekly basis?
It's not entirely out of the realm of possibility. But the Rams have a tough road ahead if they are going to contend for the postseason in 2015.
(h/t NFL.com)