ARCA: Larson, Wallace Tackle Daytona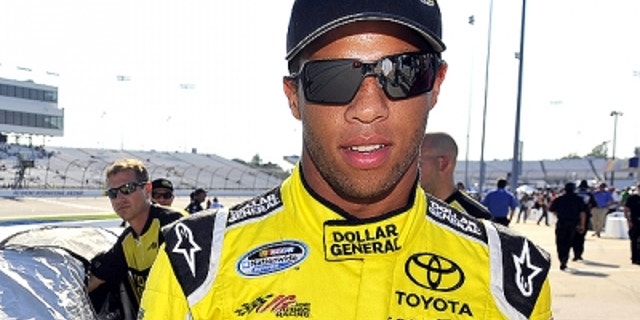 In addition to the highly anticipated start of a new NASCAR season over the next two weekends at Daytona International Speedway, stock car racing's most famous track also will welcome two young drivers who could be at the front of race fields for many years to come.
Among the drivers whose progress in Saturday's season-opening Automobile Racing Club of America race, the Lucas Oil 200, will be watched very closely are 20-year-old Kyle Larson and 19-year-old Darrell Wallace Jr., each making his Daytona debut.
The race, marking the 50th anniversary of ARCA competition at Daytona, is scheduled for a 4:30 p.m. green flag Saturday as a prelude to the Sprint Unlimited NASCAR race. The event will be broadcast by SPEED.
Larson and Wallace have earned notice for excellent performances in their current roles as developmental drivers – Larson for Earnhardt Ganassi Racing and Wallace for Joe Gibbs Racing.
Saturday's ARCA race, typically used as a learning platform for new drivers, will give Larson and Wallace their first looks at tight restrictor-plate racing.
Larson is scheduled to drive for Turner Scott Motorsports in the ARCA event. He'll also be in Turner cars in the Nationwide Series this year.
"Daytona is a huge place, and any time you get to race somewhere with so much history, it's really exciting," Larson said. "I'm just really ready to get in the car and see what we can do. Since it's my first time on a restrictor-plate track, I think it'll be a good learning experience.
"Hopefully, we can stay out of trouble and prepare ourselves for the rest of the season. The No. 4 Cessna Impala that my team has prepared has always been fast in all of the races it's been in, and I think we have a good strategy to get up front again."
Wallace, who is scheduled to run full time in the Camping World Truck Series this season (becoming one of a handful of black drivers to race full-time in a NASCAR series) in vehicles fielded by Kyle Busch Motorsports and the Gibbs team, will drive for long-time ARCA operation Venturini Motorsports in Saturday's race.
"I know they have great equipment and have helped a lot of talented young drivers gain valuable experience," Wallace said. "I appreciate Toyota continuing their support of me and being on board for my first Daytona race."
Larson scored three top 10s in the Truck Series last year and led 48 laps in the finale at Homestead-Miami Speedway before crashing near the end of the race.
"I think the toughest part for me will be just learning the draft, finding a partner and getting used to pack racing," Larson said of Daytona. "I think learning how to suck up to the back of another car could be somewhat of a challenge. I've raced on a lot of different tracks in different situations before, though, so hopefully it won't take too long to figure it out and we can be up front at the end to battle for the win."
ARCA practice is scheduled from 1 to 5 p.m. ET Thursday. Qualifying is scheduled at 2 p.m. Friday.
Mike Hembree is NASCAR Editor for SPEED.com and has been covering motorsports for 31 years. He is a six-time winner of the National Motorsports Press Association Writer of the Year Award.