Aqib Talib predicted how Denver would win Super Bowl 50 in Week 1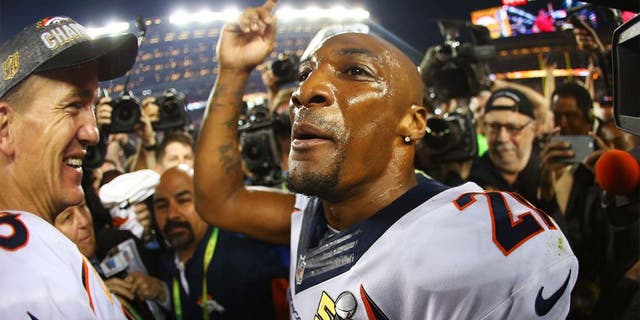 Aqib Talib probably never gave this a second thought.
The Denver Broncos cornerback had just returned an interception for a touchdown in the team's Week 1 win over the Baltimore Ravens. And quarterback Peyton Manning had failed to lead a touchdown drive. In fact, Peyton hadn't led a touchdown drive during the preseason either -- a streak of 21 straight possessions.
Manning just looked off -- a trend that continued throughout the season -- accounting for just 150 net yards and throwing a pick-six in a performance that he somehow deemed "fair."
But was Talib worried about his team's championship chances?
''I think John Elway had like 115 yards and won the Super Bowl one time, so it's definitely possible,'' Talib told the Associated Press at the time.
Oh, how right he was. Elway completeld just 12 of 22 passes for 123 yards with zero touchdown passes and an interception in the Broncos' win over the Green Bay Packers in Super Bowl XXXII. Full disclosure: Elway did have a rushing touchdown.

Fast-forward to Super Bowl 50, and Manning's stat line was similiar: 13 of 23 passing for 141 yards, zero touchdowns and an interception. He didn't have the touchdown run that Elway had.

And head coach Gary Kubiak, who thought the Broncos' Week 1 win ''might be the greatest defensive football game I've ever been a part of as a coach," marveled at how his defense, led by players like Talib, carried Manning yet again.
"[Manning] didn't have to go out there and do it all on his own, and he knew that."
That Aqib Talib is a perceptive guy. Doesn't excuse his facemask penalty in the Super Bowl, but still.
You can follow Sid Saraf on Twitter right here.