AP Interview: Altidore 'didn't want to give satisfaction' to racists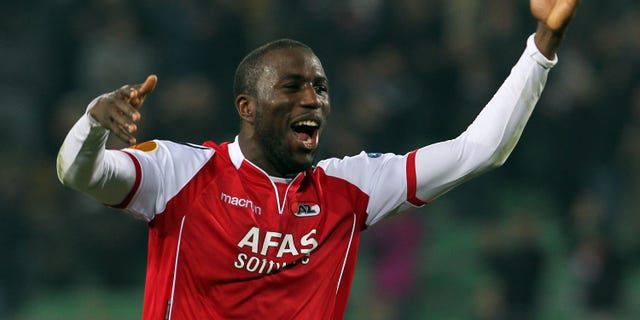 United States striker Jozy Altidore refuses to hold a grudge against fans who showered him with racist abuse during a match this week, saying: "We all make mistakes."
In an interview with The Associated Press, Altidore said he decided to play through the abuse Tuesday because he didn't want to give satisfaction to people who directed monkey chants at him.
The 23-year-old said it was the first time he has experienced racism like this, on or off the field.
"This was pretty big. To have a stadium chanting monkey sounds is not something pleasant," he said in the phone interview. "I'm the only black player on my team, so I think it was more directed to me than anyone else."
"There's a bunch of videos online, you can hear them pretty clear," he added. "It was really loud."
Dutch club FC Den Bosch pledged Wednesday to do all it can to identify and punish the fans who hurled abuse at Altidore during the Dutch Cup match against Altidore's AZ Alkmaar. It said the abusive fans "will face the toughest possible sanctions."
Altidore said such incidents are a stain on everyone, not just fans who chanted.
"Anytime it happens I think we all should be ashamed," Altidore told the AP. "It's very embarrassing for everybody, you know, because at the end of the day we are, as a society, trying to move forward. So when that happens I think everybody takes a loss."
"It's disappointing. But, I mean, at the end of the day, you know you hope those people can improve themselves."
Altidore said he has prayed for his tormentors.
"My family, we were brought up, you know, very religious. My mother, she always told us that the best way to help some people, especially people you have no way of coming into contact with, is to pray for them. And, yeah, that's what I did. Because, I mean, those people they're deep down probably not all bad people. But at the same time people make mistakes and this for them was a mistake."
He added: "You just pray that it won't be repeated and that they learn from it and you forgive them because at the end of the day you can't hold grudges against people. We all make mistakes."
Altidore said referee Reinold Wiedemeijer wanted to halt the match but was dissuaded by the players.
"We were all just telling him, 'Look we want to continue, we want to play on,'" Altidore said.
"I didn't want to give them the satisfaction and I thought the best way to respond was to keep playing and to try and win the game," he added. "I'm proud of the club, you know, for the way they responded, and my teammates. We kept playing the game."
This month in Italy, AC Milan midfielder Kevin-Prince Boateng chose not to play on and led his teammates off the pitch in protest at racial abuse by opposing fans during an exhibition match against fourth-tier Italian club Pro Patria. Boateng picked up the ball, kicked it at a section of the crowd, took off his shirt and walked off with his teammates.
Altidore said that while he and Boateng reacted differently, they were both "trying to send the same message in terms of saying racism should not be allowed and should not be tolerated at any level."
"He was trying to send the same message I was trying to send."
Altidore praised the response of the Netherlands Football Association, saying it has "done a tremendous job."
He appealed for more action against racism from world football governing body FIFA.
"There's only so much we can do as individuals. I think at some point you have to look at FIFA. FIFA has to come out and try and make the situation better because they have the power to do it."
Altidore, one of Dutch football's most prolific strikers this season, scored a goal from the penalty spot in his team's 5-0 win over Den Bosch.