Aoki still experiencing concussion symptoms, to see specialist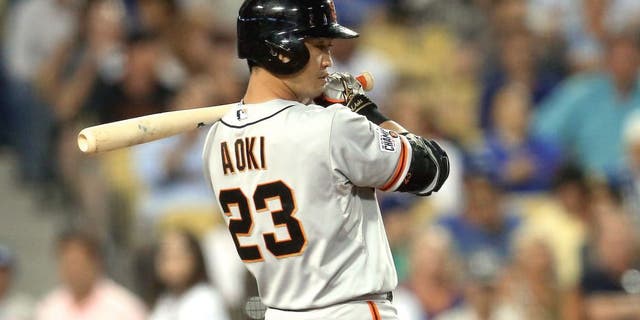 It's been nearly a month since Nori Aoki was hit in the head by a pitch, but he is still experiencing concussion symptoms related to the incident, which have him headed to the doctor's office for further investigation.
The San Francisco Giants left fielder, who was hit in the head on Aug. 9 by a pitch from Cubs ace Jake Arrieta, continues to feel lightheadedness and nausea that have been affecting his play.
"When I woke up this morning, my head was heavy and I was out of breath," Aoki said Saturday. "It got worse the past two days, but looking back at it now, it started before that."
After sustaining the injury in August, Aoki has had a fraction of the success he had in the early season, and has hit .192/.250/.327 with a home run, two RBI, and two stolen bases in 14 games.
He's now scheduled to consult concussion specialist Dr. Michael Collins in Pittsburgh this week.
In the meantime, Aoki is unsure if he'll play again this season.
"I want to play, but it all depends on what the doctor says," he said.
(h/t San Francisco Chronicle)