Antonio Gates doesn't want Malcom Floyd to hang 'em up just yet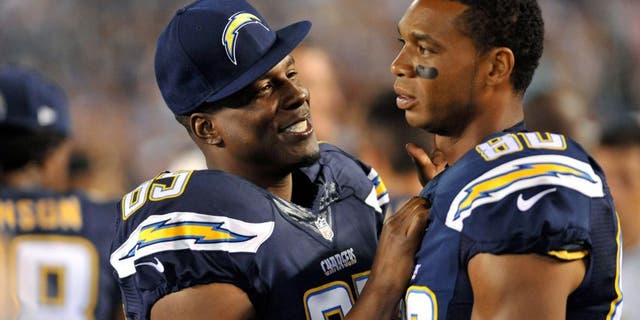 It's no secret -- Antonio Gates wants Malcom Floyd back for next season. Orlando Ramirez USA TODAY Sports
Antonio Gates and Malcom Floyd have been Chargers teammates for 11 seasons.
The former is lobbying hard for a 12th season together. According to U-T San Diego's Tom Krasovic, Gates won't stop nagging Floyd to reverse course on his retirement plans.
Those plans might've changed when Floyd tore his labrum in Week 9. It's unclear if Floyd will play again in 2015; Gates wants him to give it another go next fall.
"I think there's a little doubt in his mind," Gates told Krasovic, "Because of how he went out."
So Gates is doing everything he can to exploit that doubt. He should point to his teammates' numbers; at 34 years old, he's still second-best in the league in terms of yards per catch (19.5).
"I put more doubt in his mind because I want him to come back," Gates said. "I'm like 'Dude, you can't go out like this.'"
MORE NEWS: Want stories delivered to you? Sign up for our NFL newsletters.