Antonio Brown to Mike Vick: 'Trust me to make plays'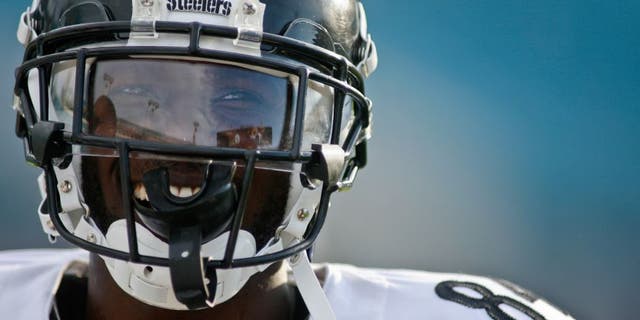 NEWYou can now listen to Fox News articles!
Antonio Brown wants the ball more, but he may have to wait for starting quarterback Ben Roethlisberger to return. Phil Sears-USA TODAY Sports
Steelers receiver Antonio Brown isn't exactly thrilled with his decrease in production since Michael Vick took over for the injured Ben Roethlisberger.
Brown has just nine receptions for 87 yards in Vick's two starts, a large dropoff from the 29 catches and 436 yards in his first three games with Roethlisberger. Brown is keeping a positive attitude, knowing that the game plan is very different with Vick behind center.
"Obviously, our quarterback is not our [starting] quarterback," Brown said per the Pittsburgh Post-Gazette. "I think Mike Vick is just playing within the game plan. He's playing conservative and trying to do whatever it takes to win, not trying to make a mistake, and that's about it." Brown believes Vick may shy away from getting him the ball because he sees Brown double-covered as part of his pre-snap read. Regardless, Brown wants Vick to trust that he'll still find a way to get open and make a play.
"He has to take some shots, man," Browns said. "I told him, trust me a little bit, let me make some plays and let's get a victory. It doesn't have to be that hard."
The bottom line for Brown is that the team wins, but it's hard to argue with his claim that the offense would be better off with more balls going his way.
"As long as we keep winning, that's all it's about. But it's evident I do need the ball.''
For his part, Vick knows he has to target Brown more than the six times he did in Monday night's win over the Chargers.
"It's very important. That's something I'm still working on," Vick said. "This week, we say we're just not going to put an emphasis on it. We're going to let everything happen naturally and go out there and just play to win, and that's the most important thing."
Sunday's game against Arizona could mark Vick's last game as a starter. Roethlisberger practiced on a limited basis Wednesday and could return for the team's Week 7 visit to Kansas City.