Anthony Johnson denies ever accepting Jon Jones fight at UFC 197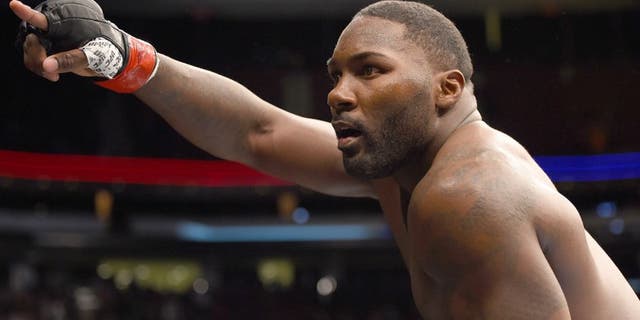 When Daniel Cormier suffered a leg injury that forced him out of UFC 197, it appeared Anthony "Rumble" Johnson was the most likely candidate to replace him against Jon Jones in the main event.
Johnson is considered the top contender in the light heavyweight division right now after his punishing finish over Ryan Bader in January and a 5-1 record since returning to the UFC in 2014.
According to Johnson, the UFC did call him about taking the fight on April 23 but he never accepted the fight due to dental surgery to plant four screws in his jaw that will keep him out of action for several weeks.
"Everybody's hitting me up now, all of my friends, saying that Jon (Jones) is throwing me under the bus or whatever. I never accepted the fight with Jon," Johnson said on Instagram on Monday. "UFC hit me up and asked me about it but they didn't know anything about that I had dental work done and I had four screws put in my jaw. So why would I accept a fight and then say no, I don't want to fight him? That's stupid, I've got more sense than that.
"So either the UFC is telling this man the wrong thing or somebody's not telling the truth somewhere in between because I got told something different and now I'm being hearing Jon's being told this. I don't know but it is what it is."
After Ovince Saint Preux eventually accepted the fight, Jones claimed that he heard Johnson was the original choice for the card but eventually turned the fight down claiming that he needed oral surgery.
Johnson denies those allegations while also clearing up another rumor that he was training as a potential replacement for the fight already after Jones was arrested on a probation violation two weeks ago.
"I know my teammate Kamaru (Usman) said I was ready but he didn't know I had dental work done, he didn't know I had four screws put in my jaw at the time he did that interview because he hadn't seen me but maybe twice in the gym," Johnson explained. "So he was just showing love and support whenever he said I would be ready. He's not supposed to say 'oh my teammate hasn't been in the gym and hasn't been doing anything'. No teammate would really do that to another teammate, if you respect that person.
"Hope everybody just don't get it twisted but like I said, it is what it is, and (expletive) it."
Johnson closed his series of Instagram videos with one final statement where he once again clarified that he never actually accepted the fight and even if he wanted to face Jones at UFC 197 due to his oral surgery it just wasn't possible.
Johnson also hinted that there was more to this story than what's been made public, possibly pointing the finger back at Jones and his camp for being at fault.
"I'm only doing these videos because I owe it to the fans, I owe it to everybody so they can know besides reading or hearing (expletive) from other people. You're hearing it from me -- I never said OK to the fight, I never said yeah," Johnson said. "So I just wanted to let you guys know what the deal was and hopefully we get to the bottom of it because something's not right him being told that I accepted the fight and I never said it.
"I heard something totally different as far as coming from his camp, I heard other things. So like I said, it is what it is."
Johnson will now take time off to recover from his oral surgery as he awaits word on his next fight in the UFC.