Anthony Johnson calls for Daniel Cormier to be stripped of the title in appeal over UFC 210 weigh-ins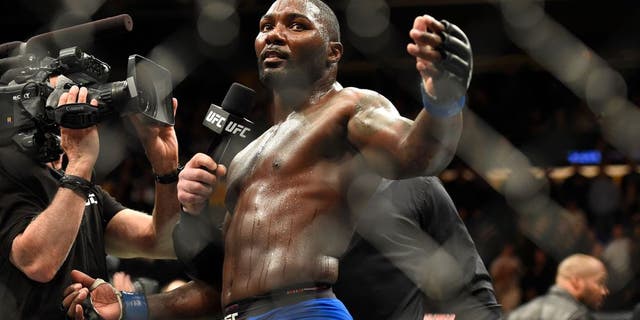 NEWYou can now listen to Fox News articles!
Anthony Johnson may be retired but he's not done fighting just yet.
This week, Johnson's attorney Craig Zimmerman filed an appeal with the New York State Athletic Commission over the controversial weigh-ins that took place last Friday in Buffalo ahead of UFC 210.
The situation unfolded when light heavyweight champion Daniel Cormier stepped on the scale and weighed 206.2 pounds, which was 1.2 pounds over the limit for the title fight. Cormier left the stage and then returned just a couple of minutes later and made the 205-pound limit.
It was later noted that Cormier had his hands on the towel that was covering him during the weigh-in that could have potentially manipulated his weight on the scale. Cormier has denied any wrongdoing and stated he only held onto the towel to ensure he wasn't exposed to the members of the media covering the weigh-ins that morning.
Ultimately the situation didn't sit well with Johnson or his team and they've now filed an appeal on his behalf while looking for the proper penalty to be assessed against Cormier as well as his title being stripped, which would have been the result had he failed to make weight for the fight taking place the next night.
From the appeal,as sent to FOX Sports by Johnson's attorney:
It is worth noting that Johnson isn't appealing the result of the fight but rather the situation surrounding the weigh-ins from the day before the event.
Zimmerman also told FOX Sports that the New York Commission has acknowledged receipt of the appeal that was filed this week.
Johnson ultimately fell to Cormier in the fight the following night before retiring from the sport to pursue a new occupation outside of mixed martial arts.
Still, it's clear the former title contender isn't happy with the way the weigh-ins were handled on Friday due to the controversial circumstances surrounding his opponent missing and then making weight just minutes apart.
Zuffa LLC via Getty Images | Zuffa LLC