Anthony Johnson agrees to counseling after gym altercation in Florida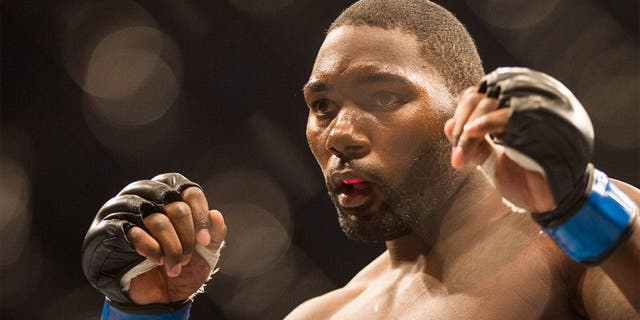 UFC light heavyweight contender Anthony Johnson will undergo counseling and make a donation to a women's charity in Florida after a Facebook rant about an altercation with a woman in his gym ended with the UFC conducting an investigation into the matter.
UFC officials released a statement about their findings on Monday while also saying that the incident is closed and no further action is necessary.
"Following a thorough investigation by a third-party law firm, UFC is extremely disappointed with Anthony Johnson's recent actions, as the organization does not tolerate behavior of this nature from any athletes under contract with the UFC," officials said in a press release. "Johnson personally apologized to the woman he verbally offended at a Florida gym last week and for the insensitive comments he made on social media afterwards. The woman accepted Johnson's apology and indicated a desire to put this unfortunate matter behind them.
"In order to ensure these situations do not happen in the future, Johnson has agreed to participate in counseling and UFC will support him through this process. Johnson has also agreed to make a donation to a Florida-based women's charity."
The entire incident started when Johnson unleashed a tirade on his social-media account about a run-in with a woman at his local gym while he was lifting weights.
Johnson claimed that the woman was stretching in the same area where athletes were lifting weights and after an argument he allegedly picked up her yoga mat and tossed it across the gym. He then threatened to do the same thing if it happened again.
"That's a athlete's gym not a yoga studio," Johnson wrote.
"So one more time don't run your mouth and don't do yoga stretching where people lift weights or I'll snatch the mat from under you again and throw it again."
Not long after the post went viral, Johnson deleted the rant but the UFC opted to hire a third-party law firm to look into the matter further.
Despite the incident that landed on Facebook, the investigation launched by the UFC and the subsequent ruling, Johnson maintains that he stayed focused on Jimi Manuwa and their upcoming fight scheduled for UFC 191 in Las Vegas on Sept. 5.
"I'm focused on the fight," Johnson told FOX Sports on Tuesday. "I don't let nothing really distract me. I'm a calm guy, people don't seem to realize that. In the gym, I go in the gym I go in and train hard and I leave. I don't go in and bother people. I don't even stand around and talk to my teammates, within five or 10 minutes, I'm gone. I'm just ready to leave because I put in all this hard work, I want to get home and chill."
Immediately after deleting the Facebook rant, Johnson apologized for his overreaction.
"I shouldn't have gotten that upset from the start, but I did, I mean, I'm human," Johnson wrote. "I said some pretty nasty things about a female from my gym while full of emotions (not a good idea) so I do wanna apologize to her for being rude as I was and not taking a break to relax after our argument.
"Sorry to everyone else too for having to witness me getting upset about a(n) argument in the gym. I'm not going to sugarcoat it and make it seem like I'm a angel because I'm not, but I will admit when I'm wrong."
Johnson says he can't help how people react to this altercation or if their perception of him has changed. The top-ranked light heavyweight contender doesn't see himself as some kind of bad guy, but ultimately he's most worried about the opinions of the people closest to him.
"People can think whatever they want to think," Johnson said. "As long as my friends and family know who I am, that's all that matters to me."