Anthony Davis says winning gold medal means more than winning title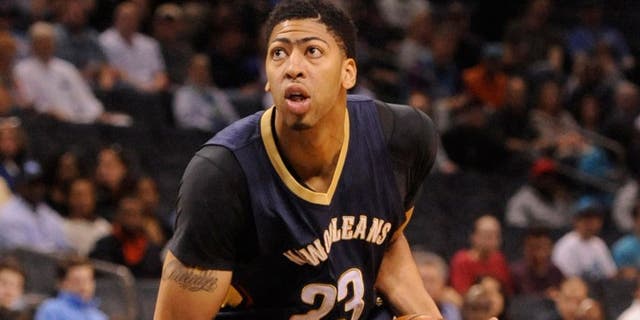 NEWYou can now listen to Fox News articles!
While many NBA players hold the Larry O'Brien Trophy as the ultimate prize, New Orleans Pelicans star power forward Anthony Davis believes taking home the gold for Team USA is the end-all, be-all.
"For me, it's No. 1," Davis said Saturday when asked where winning gold ranks in terms of importance for NBA players, via USA Today. "You don't really get an opportunity to win a gold medal every year, and I'm fortunate to have two, one for the World Cup and one for the Olympics.
"Winning -- just the feeling of them playing your national anthem and them putting a gold medal around your neck -- is huge."
Davis won't have a chance to add to his gold-medal haul this summer because he's still rehabbing from a knee procedure in late March. But he's still confident that the U.S. will be in good hands despite a number of star players backing out of the Rio Games.
"We've got a lot of great players on that team," Davis said. "Paul George, DeMarcus [Cousins], Kyrie [Irving], Klay [Thompson] --€" so I think we're gonna be fine. Guys are gonna go out there and compete. They know what USA Basketball holds their standards to, and that's nothing less than winning gold."
Davis helped Team USA win gold at the 2012 Olympics and the 2014 FBA World Cup but hasn't had as much team success in the NBA. Despite being one of the brightest young stars in the game, the Pelicans have reached the playoffs just once during Davis' first four years in the league.
Davis has had trouble staying on the court, having not played at least 70 games in each of his first four seasons. He also had a subpar season last year, failing to average a double-double for the first time in his career and scoring a career-low 13.5 points per game.
But Davis is staying positive and looking to have a bounce-back season while also getting the Pelicans back into the playoff picture.
"We've gotta come out here and play together, play hard," Davis said. "We lost a couple pieces, but we added a couple pieces as well. I'm excited about this season, and I think we're gonna get back to our playoff ways."