Anthony Davis looks forward to launching threes next season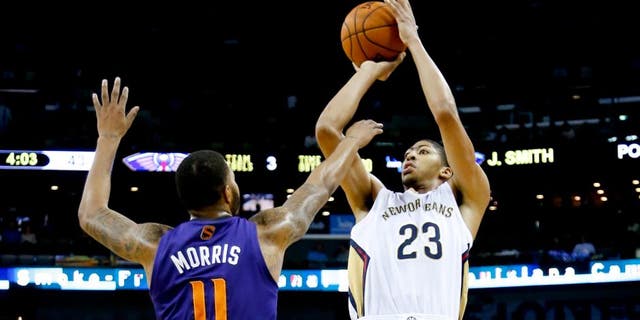 NEWYou can now listen to Fox News articles!
Anthony Davis shot just 1-of-12 from three-point distance last season, but that is not at all indicative of his ability to hit those shots.
The ones he took were either near the end of the shot clock or half-court heaves, and few (if any) came within the flow of the offense. And the one he did hit may have sent New Orleans to the playoffs, as it beat the Thunder at the buzzer and ultimately gave the Pelicans the tie-breaker over OKC in the standings once the regular season was finished.
With Alvin Gentry now in place as the team's head coach, Davis is going to be encouraged to take plenty of 3-pointers next season. And he's looking forward to making the most of those opportunities.
"I'm going to mix it up," Davis said, in an interview with SLAM. "I love playing down low, but at the same time, if the opportunity is there; I'm definitely going to take them. That's one thing for sure that coach Gentry has told me -- 'Shoot the ball, let it go.' I've been working on it and I'm very confident in my game.
"I've shot threes all my life. I didn't really need to shoot them over the past few years as much, but I'm never going to turn down shooting threes, especially if the coach tells me he wants me to shoot them. It's something that I've definitely been working on. I definitely plan on utilizing it this year."
Davis averaged 24.4 points and 10.2 rebounds last season, while leading the league in blocked shots with an average of 2.9 per contest. He's already expected to have an improved low-post game; adding the three-point shot to his skill set is going to make him even more ridiculous for teams to deal with during the upcoming NBA season.
(h/t: SLAM)