'Antetokounbros' challenge 2005 Greek national team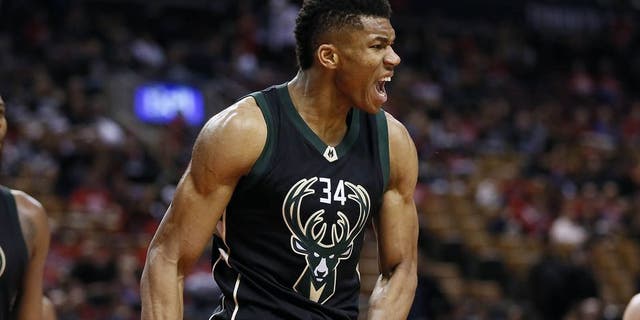 NEWYou can now listen to Fox News articles!
If you miss watching Giannis Antetokounmpo play basketball, first of all, join the club.
Secondly, scroll down.
Giannis and his older brother Thanasis, coined the Antetokounbros, held a special event at Nick Galis Hall in Thessaloniki, Greece.
The Antetokounmpo brothers are beloved in their home country, where Giannis spends much of his offseasons. They held a similar event last year a street ball event in which Giannis and Thanasis squared off outdoors.
But this year, Giannis returned to Greece as a NBA All-Star. So he needed to call in a higher level of competition.
The Antetokounbros teamed up and challenged members of the Greek national team that won the 2005 Eurobasket Tournament. The two teams battled back and forth, but Giannis team won in a nail biter (ok, that might be a bit dramatic), 109-107. There wasnt much defense to go around, but a full crowd of over 6,000 Greek fans were entertained by the flashy dunks and highlight-reel blocks throughout the game.
Eurohoops.net put together a nice little montage of Giannis at the event.
But for more highlights from the event, watch this:
Oh, you have two hours to kill? You can watch the entire game below, courtesy of Eurohoops TV.
And, just for fun, heres the trailer that came out before the event. Note Giannis impressive acting skills below:
Thanasis was drafted by the New York Knicks in 2014, and he currently plays professionally overseas for MoraBanc Andorra of the Liga ACB the top basketball division in Spain.
Giannis has two younger brothers, Kostas and Alexis. Kostas redshirted his freshman season at Dayton, and Alexis is a 15-year-old forward that already has scouts buzzing about his potential in basketball.