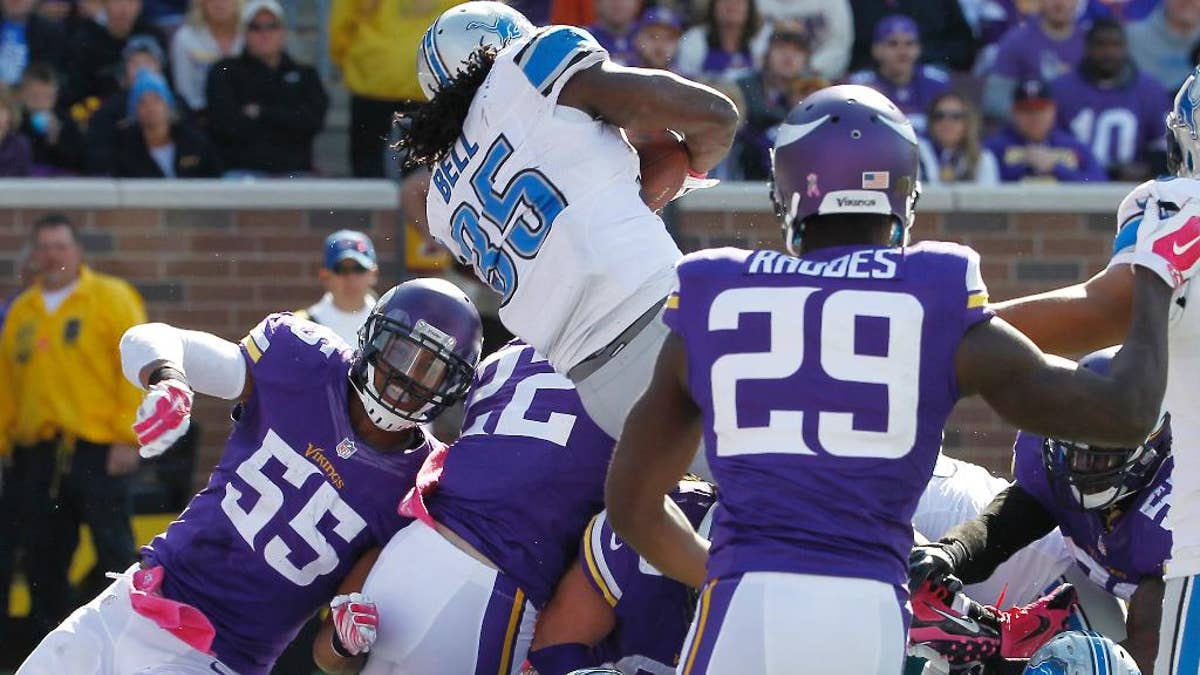 MINNEAPOLIS – Defense in the NFC North last season was, well, in name only. This year, there's a legitimate unit in Detroit.
Dominant, actually. That's why the Lions are tied for first place.
With Ziggy Ansah and Ndamukong Suh leading a relentless rush, the Lions had eight sacks and three interceptions of Minnesota rookie Teddy Bridgewater in a 17-3 victory over the Vikings on Sunday.
The Lions (4-2) entered the week allowing the fewest yards per game and the second-fewest points per game in the NFL and still managed to top themselves, keeping pace with three-time defending division champion Green Bay.
"It's a dominant performance across the board," Suh said, "and all of us just working together and knowing how each other rushes."
Fast and furious was the way it looked to Bridgewater and the Vikings (2-4).
Ansah, who was limping around at times, had 2 1/2 sacks. Seven different Lions were credited with at least a half of a sack. They held the Vikings to 212 total yards.
"It was just one of those days we needed to show up," Bridgewater said, "and we didn't."
Bridgewater, who finished 23 for 37 for 188 yards, was picked off twice by Tahir Whitehead, both on tipped balls. One was tipped at the line by Devin Taylor and another went through running back Matt Asiata's hands.
Bridgewater was left largely unprotected during another shaky performance by the offensive line.
"I've been around an awful lot of teams. Bothers me a little bit, when some things happen bad and we don't fight our way out of the hole," coach Mike Zimmer said. "That's what the good teams do. They haven't done that yet."
With Calvin Johnson and Reggie Bush absent because of ankle injuries, the Lions played a low-risk game and were forced to punt as often as the Vikings: seven times each. They converted only one of 13 third downs.
Matthew Stafford wasn't at his best, missing his three-time All-Pro wide receiver Johnson and finishing 19 for 33 for 185 yards. Theo Riddick caught five passes for 75 yards and a touchdown, the latest running back to work his way into the game plan this season. Riddick later hurt his hamstring.
Joique Bell put the game away with a fourth-quarter touchdown run to finish with 74 yards on an 18 carries, though, and Stafford was turnover-free. He led a seven-play, 80-yard opening drive for a score to put the defense in position to dominate.
The Lions have allowed an average of 13.7 points per game.
"We can be the best ever, in my eyes," defensive tackle Nick Fairley said, adding: "Just look at us, man. We've got a defensive line that can get after anybody. Our linebacker corps, it's amazing the way they fly sideline to sideline, and our secondary is covering for us."
Here are some key nuggets to know about the game:
BLOWN AWAY: After letting Nate Freese and Alex Henery go, the Lions gave the kicking duty to veteran Matt Prater, who missed two of three field goals in his debut. That dropped the team total to a dismal 5 of 15 this season.
Prater said he was upset with his performance, but Caldwell said he wasn't concerned. Both of the failed kicks, from 50 and 44 yards, went into swirling wind in the open end of the stadium.
"I have all the confidence in the world in him," Caldwell said.
SACKS FOR SUH: Suh, in his fifth season, passed Shaun Rogers on the franchise list for career sacks by a defensive tackle and has 30 1/2. Rogers played seven years for the Lions.
"I appreciate it. I definitely owe it to all my guys I play next to, especially Nick Fairley and C.J. Mosley," Suh said.
RARE ROAD WIN: The Lions won at Minnesota for only the second time in the last 17 trips here. Their overtime victory at the Metrodome in 2011 was the only other one since 1997. The Vikings, who lead the all-time series 69-35-2, lost outdoors at home to the Lions for the first time since 1974.
BACKFIELD SHUFFLE: Jerick McKinnon moved ahead of Asiata as the featured runner for the Vikings and totaled 82 total yards on 17 touches. Asiata only had two carries, for a net of minus-5 yards, and caught one pass for 18 yards.
OFF TARGET: Bridgewater ended a promising opening possession by locking his eyes on Cordarrelle Patterson in the end zone, allowing Glover Quin to break on the ball and pick it off. Patterson was a nonfactor again with one carry for 2 yards and two catches for 15 yards despite eight targets, playing through a nagging hip injury.
"It's a struggle out here right now, just trying to get open for Teddy to see me. Next week, I've got to do a better job," Patterson said.
___
AP NFL websites: http://www.pro32.ap.org and http://www.twitter.com/AP_NFL