Another close call shows Golson's progress crucial to Seminoles' CFP chances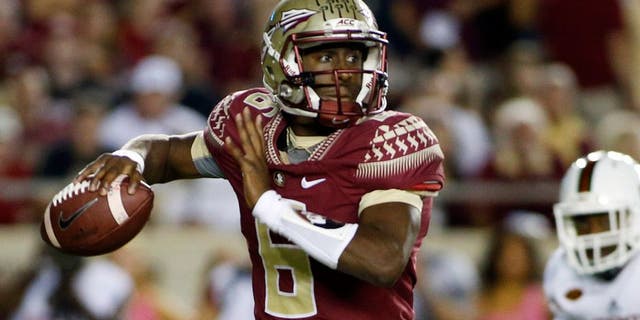 Not that he's trying to be, but five games in its abundantly clear: Everett Golson is no Jameis Winston.
While No. 12 Florida State's current QB -- and Winston's successor -- threw for 280 yards and a touchdown in Saturday's 29-24 win over rival Miami, this victory came courtesy of the Seminoles' most dominant weapon.
Dalvin Cook torched the Hurricanes for 222 yards and two scores on the ground and added a a receiving score. It's a final line for the sophomore running back that should come as no surprise as Cook was expected to be the center piece of Jimbo Fisher's offense.
But it was Golson that was the wild card. The Notre Dame transfer, who led it it the final BCS Championship Game, was a coup for the Seminoles in the aftermath of Winston's early departure for the NFL.
He's been strong, having yet to throw an interception in 139 attempts, and that in itself is stunning compared to his final season in South Bend, in which he tossed 14 picks.
It's just that so far, Golson hasn't been the game-changer that was expected to turn the Seminoles into College Football Playoff contenders once again.
Golson's efficiency rating, which sat at 148.5 (31st in FBS) going into Week 6, was largely a matter of his playing it safe.
Facing third-and-16 with 3:25 left and in a five-wide set, Golson dumped it off to Kermit Whitfield, a play that left the Seminoles five yards from a first-down.
That has been Golson's tendency under Fisher, as he has just eight pass plays of 25 or more yards, two of which came vs. Miami, but one was a short route that Cook turned into a 36-yard score.
In Winston's final season, close calls were the defining narrative, with Florida State playing seven games decided by six points or less.
The difference, though, was the 2013 Heisman Trophy winner. Granted, he was as much to blame for anyone as those struggles -- throwing 18 interceptions with 13 in the first half of games -- but he was also the force that helped lead the Seminoles to the first CFP.
This Florida State team has faced its own series of closer-than-expected games, including pulling away from South Florida, beating Boston College 14-0, and last weekend, escaping Wake Forest 24-16.
Golson hasn't shown that Winston-like ability to make the big play when the Seminoles need it, with that responsibility falling on Cook.
When the running back left against Wake Forest with a hamstring injury, the Seminoles offense managed 17 points in three quarters against a defense that, while improved, still gave up 30 to Syracuse and 31 vs. Indiana.
Golson was 25 of 33 for the night against the Hurricanes, but from halftime until late in the third he had thrown for just 91 yards, a byproduct of the work that the Miami defense was doing in limiting Cook (that is until his fourth-quarter TD run).
In order for the Seminoles to make it back to the CFP, they are going to need Golson to make defenses pay for putting the focus on the ground game.
To Golson's credit, Fisher continues to expand the playbook for the QB, who arrived at Florida State last summer. Case in point: On the first TD drive of the night, Golson ran the option, something he had yet to do in this offense.
Let's also not forget that he's also still getting used to working with a revamped offensive line that lost four starters that had played in at least 42 straight games.
Golson was strong during the first half against the Hurricanes, going 14 of 19 for 191 yards and a score, but what we have truly yet to see is him get into a rhythm for extended periods of time.
Still, the Seminoles remain unbeaten. That season-defining clash with No. 6 Clemson is just under a month away and how much progress Golson makes in operating Fisher's offense is almost certain to be that game's deciding factor.
Follow Cory McCartney on Twitter @coryjmccartney