Angels GM Eppler has 'a lot of confidence' in C.J. Wilson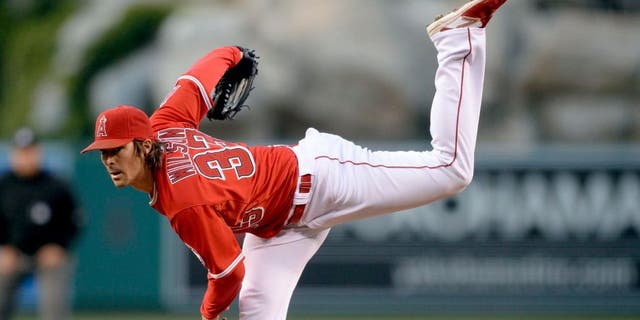 Los Angeles Angels pitcher C.J. Wilson tends to find himself the subject of discussion quite often. Not only does he experience periods of ineffectiveness throughout the season that can frustrate teams and fans alike, but his personality is such that he often says exactly what's on his mind - which can ruffle some feathers.
New GM Billy Eppler, however, is a big fan of Wilson. This is important to note when realizing that under 'normal' circumstances, Wilson could be considered on the trading block for the Halos. After Wilson's 2015 ended early with elective elbow surgery after going 8-8 with a 3.89 ERA, the Angels could opt instead to free up rotation room for their surplus of pitchers (including Jered Weaver, Garrett Richards, Hector Santiago, Andrew Heaney and Tyler Skaggs when he returns from Tommy John recovery, not to mention Matt Shoemaker).
Jeff Fletcher of the O.C. Register obtained some quotes from Eppler this week regarding Wilson, whom the GM says 'he's in the rotation' at this moment. Eppler also went on record as lavishing praise upon Wilson dating back to his time scouting him when Wilson pitched for Loyola Marymount University:
Wilson is heading into the final year of the big contract he signed with the Angels and will be paid $20 million in the process. Whether the Angels foot that bill and run him out all season or seek a team willing to take him off their hands is one of the decisions they'll have to make in the coming months.