Angels' Calhoun 'definitely sad' to see hitting coach Baylor let go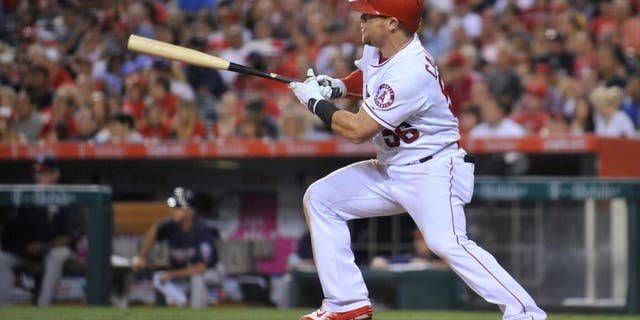 NEWYou can now listen to Fox News articles!
Earlier this week, the Los Angeles Angels let go of hitting coach Don Baylor and pitching coach Mike Butcher as new GM Billy Eppler began setting up for a potentially busy offseason.
Outfielder Kole Calhoun went on record with the O.C. Register's Jeff Fletcher about how he's sorry to see Baylor depart. "He was a great dude," said Calhoun to Fletcher. "Whenever you needed any pointers, he was always there for the mental side. He had an approach to the game that was kind of fearless. He wanted you to go out and mash. It's definitely sad to see him go. His few years were awesome for me and a lot of the other guys."
So why, then, did the Halos' offense go from the AL's most productive unit to just its twelfth-best in 2015? Calhoun didn't put that on Baylor's shoulders: "I don't think it's anything that has to do with (Baylor). We had some parts that moved form the year before. It was a different team. We wanted to score more runs, that's for sure. But I don't think you can relate that 'Groove.' He's not in the box. When he was in the box he was hitting balls all over the place."
Calhoun, by the way, hit .256/.308/.422 for the Halos in 2015 with a career-high 26 home runs and 83 RBI in 159 games, while posting a WAR of 3.0.
As for Butcher, he had nothing but complimentary things to say about the Angels, even despite being passed over in favor of someone new. In addition to saying his departure has "nothing to do at all" with manager Mike Scioscia, he told Fletcher that, "I'm ready for the next chapter in my life. Ready to move on. It's time. I have a lot of great memories of the organization the coaches, the players the pitchers, everybody involved."
How Eppler and the Halos plan to replace Butcher and Baylor is one of a few key decisions the club will have to make before the 2016 season.