Angela Hill granted USADA exemption, faces Jessica Andrade at UFC in Houston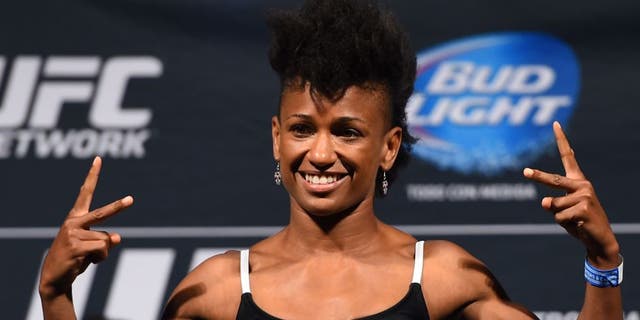 NEWYou can now listen to Fox News articles!
Former "Ultimate Fighter" competitor and current Invicta FC champion Angela Hill will finally make her return to the UFC on Feb. 4 when she faces Jessica Andrade during Super Bowl weekend in Houston.
Hill was actually tapped to fight Andrade at UFC 207, but because she had previously fought for the promotion, she was required to undergo four months of drug testing from USADA (United States Anti-Doping Agency) as part of the UFC's anti-doping program.
It was a heartbreaking moment for Hill, who later released a tearful explanation about why she wasn't going to be allowed to fight Andrade in December.
As it turns out, the UFC and USADA ultimately granted Hill an exemption from the testing after she re-entered the program in December as part of her return to the organization.
"On December 13, 2016, UFC strawweight Angela Hill was re-enrolled by USADA into the UFC Anti-Doping Policy Registered Testing Pool (RTP). Hill had previously been part of the RTP as a contracted athlete in 2015, before she was released at the discretion of UFC and subsequently removed from the program. UFC is granting Hill an exemption to the four-month RTP requirement, which will allow her to compete against Jessica Andrade on February 4, 2017, in Houston, Texas," UFC officials wrote in a statement on Tuesday.
"Under the UFC Anti-Doping Policy section 5.7.1, in exceptional circumstances or where the strict application of that rule would be manifestly unfair to an athlete, UFC can grant a waiver to the four-month requirement."
UFC officials also explained why Hill was granted an exemption as she makes her return to action in February. Hill underwent initial training for the USADA program prior to her UFC release and she's now been re-entered in the program for seven weeks since inking a new deal with the promotion back in December.
"Upon her re-enrollment into the RTP on December 13, 2017, Hill received additional education and became immediately subject to no advance notice, out-of-competition testing by USADA, making her subject to such testing for more than 7 weeks before her competition. Since Hill has returned to the RTP, she has undergone unannounced testing by USADA, and will continue to be subject to such testing while she remains in the RTP," UFC officials said.
"It was not at Hill's discretion that she was removed from the RTP in 2015. The intent of the 4-month rule is to prevent athletes from unfairly manipulating their inclusion in the RTP."
According to the statement, the UFC and USADA officials are currently reviewing the anti-doping policy including the four month rule for returning fighters "whereby only athletes who chose at their discretion to be removed from the RTP will be required to have an extended presence in the RTP before returning to competition."
The UFC has only granted the exemption once before when former heavyweight champion Brock Lesnar returned to competition last year for his fight with Brock Lesnar. The decision was later criticized after Lesnar failed a pair of drug tests -- one out of competition prior to the fight and another on fight night -- which ultimately resulted in his win being overturned and the WWE superstar being handed a one year suspension from the sport.
As for Hill, she makes her return to the UFC after a very successful run at Invicta FC where she became strawweight champion last year. Hill has gone 4-0 since leaving the UFC including her last title defense where she defeated Kaline Medeiros by unanimous decision this past November.
Hill faces Andrade, who has been unstoppable since moving down to 115-pounds last year. The former bantamweight contender made quite the debut in her new weight class as Andrade demolished former title contender Jessica Penne before submitting Joanne Calderwood last September.
Now Andrade is looking to get a shot at champion Joanna Jedrzejczyk but first, she has to face Hill in Houston on Feb. 4.