Angel Cabrera, Adam Scott Back For Another Round At Masters Tournament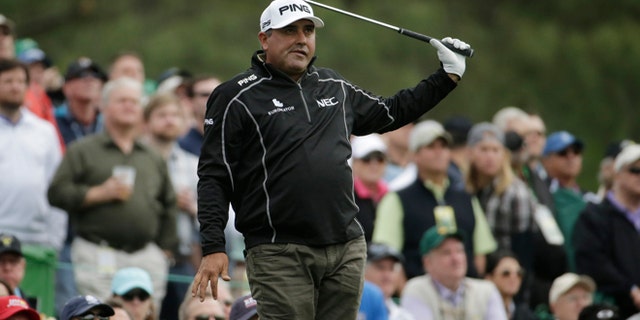 AUGUSTA, Ga. (AP) – If you're looking for someone not to pick at this year's Masters, go with Ryan Moore.
By winning the Par 3 tournament, he surely sealed his fate. After all, no one has ever taken the just-for-fun prelude Wednesday and gone on to collect a green jacket Sunday evening.
Then again, if there was ever a year to break with tradition, this might be it.
Tiger Woods is on the sidelines. A bunch of brash Augusta rookies are eager to fill his shoes. And the last two dozen majors have been divvied up among 21 winners, among them Argentina's Angel Cabrera and Adam Scott, who faced off in a playoff at last year that Scott won.
Good luck making sense of it all when the Masters actual begins on Thursday.
"You never know," Moore said, savoring his two-stroke victory on the picturesque nine-hole course tucked away in a corner of Augusta National.
"Someone has got to break that (Par 3) curse at some point in time, so hopefully it's me. Who knows? I might go shoot 8 under or something, make a couple of hole-in-ones."
As unlikely as that sounds, pretty much everything else is up for grabs at this Masters. Recovering from back surgery, Woods is sitting out the opening major of the year for the first time since turning pro.
Even as his dominance waned in recent years, he was always the clear-cut favorite coming into Augusta, where he has won four times.
Now, as Moore said, who knows?
Jason Day, Sergio Garcia and former Masters champion Zach Johnson are the only players from the top 10 who have won anywhere in the world this year. Only one of the past seven winners on the PGA Tour was ranked in the top 75.
"I think if you're outside the top 50 in the world this week, you've got a great chance," U.S. Open champion Justin Rose said with a laugh.
Woods is out of golf until the summer, but the show goes on at a tournament that rarely fails to deliver plenty of drama.
"We miss Tiger, as does the entire golf world," Masters chairman Billy Payne said. "Nevertheless, this is the Masters. This is what we hope is the best tournament in the world, one of the greatest sporting events. And I think we will have a very impressive audience and have another great champion to crown this year."
That could be Phil Mickelson, who last year won the British Open at age 42 and now has a chance to join Woods and Arnold Palmer with a fourth green jacket.
It could be Cabrera, who came so close to winning a second green jacket last year, but has missed the cut in 6 out of 8 tournaments so far this year.
It could be Adam Scott, trying to take over as the world's No. 1 player and join Woods, Nick Faldo and Jack Nicklaus as the only back-to-back winners.
While Woods last won a green jacket in 2005, he had finished out of the top six only once since then.
That's what made him such a compelling figure at Augusta.
He always seemed to be there.
"It's a huge loss," Scott said. "But, as every year here, this event produces something special no matter what. It just has a way of doing it. It's not going to involve Tiger this year, but it will involve someone else and it will be a memorable event anyway."
Rose falls on the side of experience — knowing where to miss, knowing where you can't afford to miss, where the hole locations tend to be on the contoured greens and using the slope to get the ball close.
"Always you can have the unknowns," he said. "But I would say 15 guys are pretty strong favorites."
Fuzzy Zoeller was the last Augusta rookie to claim the green jacket in 1979, and the only other ones to do it were the first two: Horton Smith and Gene Sarazen.
Then again, there are 24 first-timers in the 98-player field, a record (except for the first tournament), and none of them will concede an insurmountable learning curve.
Besides, no one is dominating golf at the moment. Jimmy Walker has the most PGA Tour wins (three) this season, but this is his first Masters. Scott had a chance to go to No. 1 three weeks ago at Bay Hill, but he lost a three-shot lead in the final round to Matt Every, who had never won in his career.
"Doesn't matter if you've played here once or if you've played here 50 times," said Patrick Reed, who has won three times in the past eight months. "When it comes down to it, it's just going to be that whoever is playing the best is going to walk away with the trophy."
Who knows? Maybe it will be Moore.
He's certainly not fretting over a supposed curse.
"I'm not afraid of it," he said.
Follow us on twitter.com/foxnewslatino
Like us at facebook.com/foxnewslatino