Andy Reid sent a message to his team with the first preseason play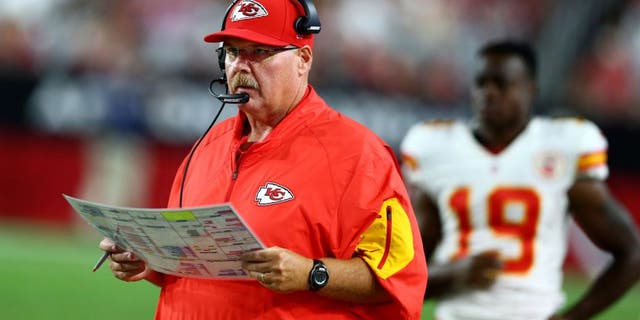 NEWYou can now listen to Fox News articles!
The message was delivered, even if the pass intended for Jeremy Maclin wasn't.
Andy Reid dialed up a long bomb from Alex Smith to Maclin as his first preseason play to set the tone for an autumn to come.
"Coach let us know a few days before that he was thinking about it," Smith told ESPN's Adam Teicher, "Almost to just to kind of set the tone a little bit."
Kansas City was dead last in the NFL in pass plays over 25 yards. Smith delivered no touchdown tosses to any of his wideouts in that span.
Reid wasted no time with that playcalling signal. He wants -- and needs -- that statistic to change.
Even if he didn't connect on the first long toss, Smith appreciated his coach's confidence.
"It's not just plays he's calling," Smith said. "There is kind of an unwritten deal there that rubs off on the huddle, rubs off on the guys, an attitude that comes with those plays. It says something, and I think guys really like it and really feed off it."
(h/t ESPN)