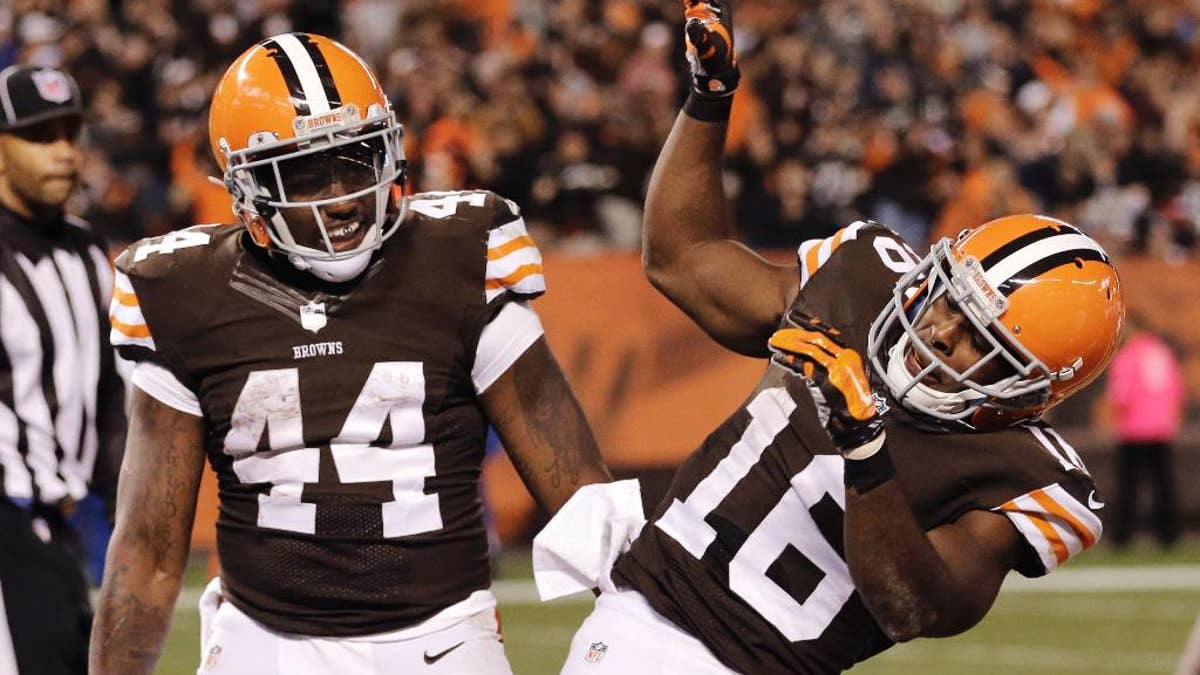 BEREA, Ohio – After another big game Sunday against the Raiders, Cleveland Browns receiver Andrew Hawkins has firmly established himself as quarterback Brian Hoyer's go-to security blanket.
Better yet, Hawkins' son might just have a new favorite team and player.
"We're pulling him over," Hawkins said.
The 28-year-old receiver posted an Instagram video last week of 2-year-old Austin, saying his favorite players were his father's former Bengals teammates, Mohamed Sanu and A.J. Green. Hawkins then playfully puts Austin outside with his luggage and wishes him luck after closing the door.
"It's an all-Browns house, man." Hawkins said of the video. "Very low tolerance for treason in my house. It's hard to get him out of that Cincinnati mindset."
Of course, if Hawkins continues to have this big an impact for Cleveland, Austin might finally take the step into true Browns fandom. On Sunday, Hawkins caught seven passes for 88 yards and a touchdown, his first with Cleveland.
And it was a big one. The score put the Browns, struggling on offense for much of the afternoon, ahead by 10 points in the fourth quarter, effectively sealing the victory. Hawkins, who signed a four-year deal in March, also caught a 32-yard pass on the same drive, which was the first play following a key Raiders fumble deep in Browns territory.
Through the team's first seven games, Hawkins leads the Browns in catches (36) and yards (470). For a receiving corps that had plenty of questions surrounding it going into the season, Hawkins has been a welcomed surprise for coach Mike Pettine.
"He's stepped up big for us," Pettine said. "We knew if we were going to get production from the wide receiver position this year that he was going to have to do it. I think he's proven to all of us that he can be a close to every down type of guy."
But Hawkins isn't the only wide receiver stepping up in the absence of Pro Bowler Josh Gordon, who is able to return to the Browns in Week 12 at Atlanta. Miles Austin has remained healthy, grabbing 23 passes season, while Taylor Gabriel caught two for 60 yards against Oakland and has 299 yards receiving since Week 3.
"Our receiving corps bust their butts, and it could be any one of us in any game," Hawkins said.
While Hawkins and the rest of the receivers have been exceeding expectations, they might be asked to do even more soon. Tight end Jordan Cameron left Sunday's game with a concussion and isn't practicing as he goes through the league's protocol for the injury. It's not yet known how much time the Pro Bowler, who has also dealt with a shoulder injury this season, could miss.
That leaves a lot of slack to be picked up by the receivers and Cameron's fellow tight ends, Gary Barnidge and Jim Dray.
"Jordan is such a great player," Hawkins said. "When you lose him, I think not just the receiving corps but everyone has to rally together."
Consider this resilient group ready.
"I think that is what it is all about," Hawkins said. "I think that is what good football teams are built on. We are laying a foundation and the basics are there. I think if we take it one game at a time, we will be in good shape."
NOTES: DL Billy Winn (quad) practiced fully while Pettine said DL Phil Taylor (knee) isn't expected to play the next two games. . The Browns signed DB Marcus Cromartie to the practice squad. . On a conference call with reporters Wednesday, rookie Buccaneers WR Mike Evans spoke about friend and former Texas A&M teammate Johnny Manziel being the backup in Cleveland. "He's the ultimate competitor," Evans said. "I know he wants to be out there bad, but he'll do whatever the team needs him to do. Sit back and learn or whatever they have him do, he's going to do it. He's a team player."
___
AP NFL website: www.pro32.ap.org and www.twitter.com/AP_NFL