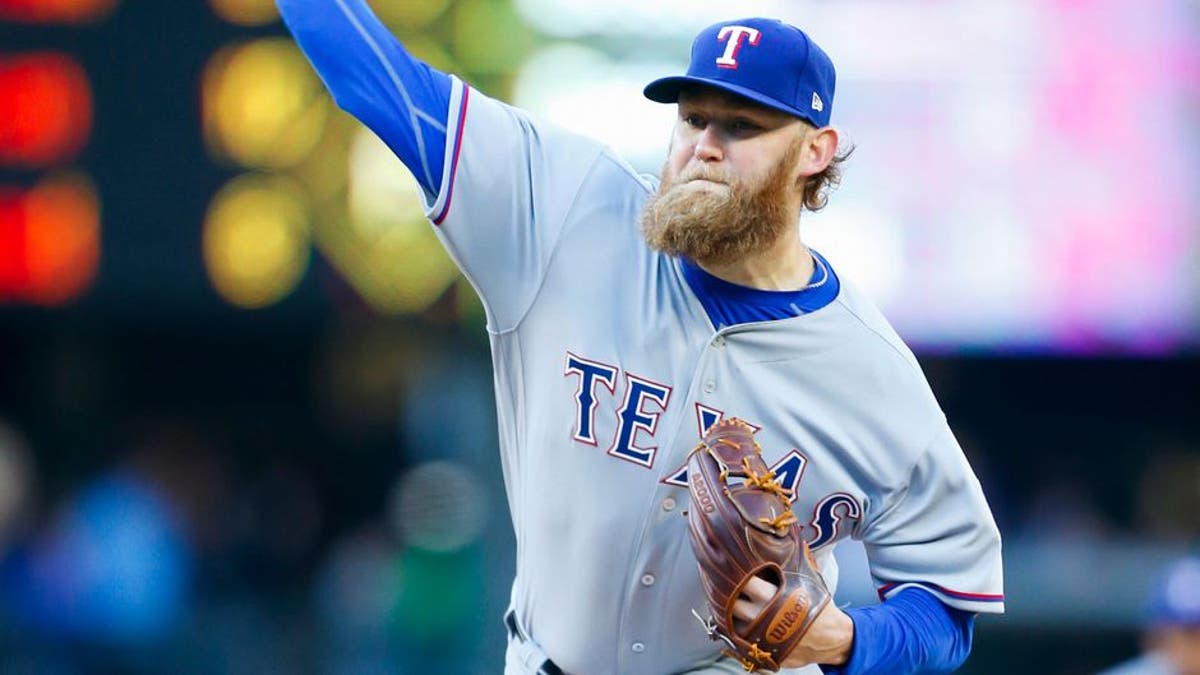 ARLINGTON, Texas -- The Texas Rangers could use the kind of home cooking that right-hander Andrew Cashner has to offer when they open a series against the Kansas City Royals on Thursday at Globe Life Park.
Maybe that's all they need after a disastrous start that has the club at 5-10, its worst start since 2002.
Despite the record, Cashner (0-1, 5.06 ERA) has plenty to be excited about as the Texas native and former TCU standout will make his first home start for the Rangers, who signed him in the offseason.
"I'm excited," Cashner said. "I'm going to have a lot of family and friends there. It'll definitely be a special moment for me for sure."
While the start will be his first at Globe Life Park, it won't be his first against the Royals. He's 0-2 against the Royals despite a 2.70 ERA. He'll be coming into the start feeling good about his first start of the season despite a 5-0 loss against the Seattle Mariners.
He was charged with three earned runs in 5 1/3 innings after missing the first two weeks with right biceps soreness.
"I think I did a lot of positive things in my first start," Cashner said. "I thought I commanded the ball well. I definitely need to cut down on my walks (three) and work ahead of guys. I thought my changeup was really good the other day, and I'll keep going with that."
Cashner and the Rangers will have their work cut out against Kansas City left-hander Danny Duffy (2-0, 1.80 ERA), who is off to a sterling start and is 14-3 since 2016.
As good a roll as Duffy has been on, that hasn't translated in his outings against the Rangers. In four starts against Texas, he's 1-1 with a 5.31 ERA. The one win came last year as he limited the Rangers to one run on four hits in 6 2/3 innings.
Duffy leads the best rotation in the American League into a series against a Texas team that's struggling offensively, having scored two runs or less in four of its last six games.
"Pitching is contagious, just like hitting is," Duffy said. "It's been fun to watch. I think I've just been trying to follow Vargy (Jason Vargas) and what he's been doing and so on and so forth. Everybody has been doing a great job."
Pitching-wise, everyone has been doing the job for the Royals. That isn't the case offensively as two of the offensive keys are off to terrible starts. Alex Gordon is hitting just .196 and Eric Hosmer .204.
Those two need to get things going if the Royals are to stay competitive in the American League Central.
"It is cycles," Kansas City manager Ned Yost said. "You just have to let them work through it. You know the talent is there. It's always been there. Their track record is what you have to fall back on. Guys go through slumps. It's just inevitable. Everybody is going to go through one or two over the course of the year, hopefully no more. You don't panic. You just keep working through it."