Andrés Duque: Can Yunel Escobar Blame Comment on Cultural Differences?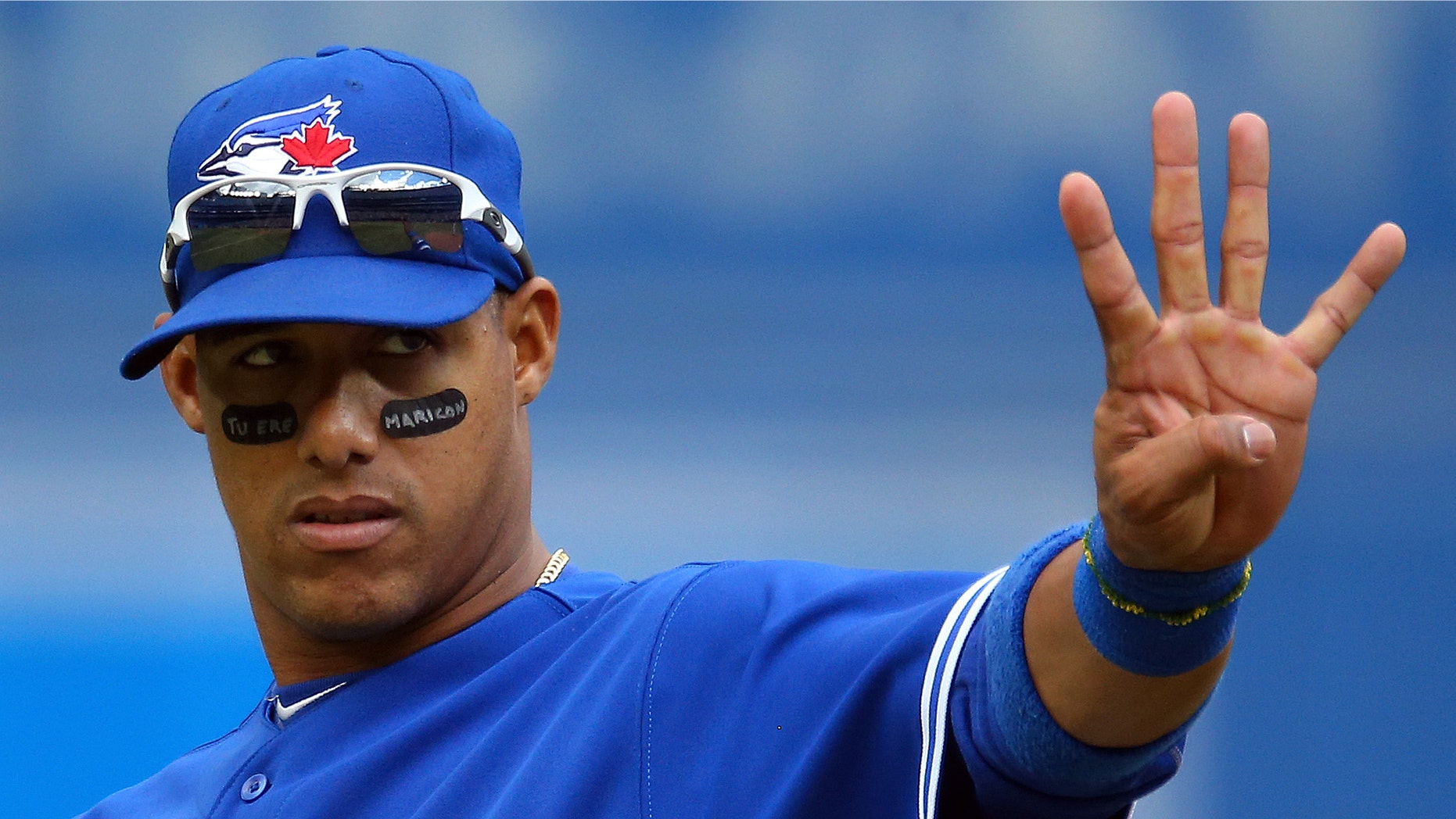 What's in a word.
"Tu ere" under one eye, "maricón" under the other.  That's the phrase the Toronto Blue Jays shortstop Yunel Escobar spelled out on his eye-black patches and wore during a baseball game on Saturday.  Perhaps because few viewers understood the phrase or, if they did, few seemed to care enough to call attention to it the moment might have come and gone without a peep. But one viewer posted a screen cap on Twitter and on Monday it spread like wildfire.
To the Blue Jays credit once the match was lit they took prompt action and held a press conference two days later announcing a three day suspension without pay and a donation of his salary during those days to two LGBT-rights organizations: The Gay and Lesbian Alliance Against Defamation and You Can Play.
Most news stories about the press conference focused on the steps taken by a major league team to reprimand one of their players for pulling a homophobic stunt. But most missed or downplayed what I found to be the most fascinating angle: Escobar, who repeatedly apologized to the LGBT community throughout the press conference was equally as adamant that his use of the word 'maricón' was in no way meant to be homophobic.
What did it mean, he was asked. "It's a word without meaning," he said.
Who was his intended target or the "you" in "you are a maricón", he was asked. "Whoever wants to identify as such," he said.
Escobar also argued that the whole thing stemmed from some kind of inside joke and that the word was so freely and frequently used by other players that it made him think it wasn't offensive at all.
He said he had gay friends who were aware of the incident who didn't think there was anything wrong with it. Asked for their identity he named his home decorator and hairstylist.
Finally, he tried to chalk it up to cultural differences and insisting that he now understood that 'maricón' was offensive to most people up north but would never be considered offensive in Latin America.
It was as slippery a performance I have seen by someone who is trying to apologize for being insensitive while actually doubling down on the fact that he believed he had not done anything wrong.  Well, at least since 2006.
At the time, then-Chicago White Sox manager Ozzie Guillen got caught calling a sports reporter a "fag" in English without giving anyone an opportunity to parse whether the Spanish word "maricón" meant the same thing.
His defense was almost word-by-word Escobar's defense six years later. Guillen also apologized to those who might have taken offense. He argued that in his home country of Venezuela the Spanish-word for "fag" was in no way considered to be homophobic.   And went one up on Escobar not only showing actual text messages from his gay hairdresser to prove he wasn't homophobic but also boasting that he loved Madonna and attending WNBA games.  Guillen was suspended as manager for five games and, much like Escobar, fined an undisclosed amount and ordered to participate in sensitivity trainings.
Not surprisingly, Guillen has now come to Escobar's defense.
As someone who was born in Latin America, is fluent in Spanish and English and identifies as gay, let me make something absolutely clear: Escobar and Guillen are lying in saying that the word "maricón" has absolutely no offensive overtones among Latinos. Just like the word 'fag', it is the preferred word throughout the region when someone wants to call another man's masculinity or sexuality into question.  Even when the word is used to indicate that someone is a coward or weak, the power of the word stems from the homophobic intent of questing whether the man is a "real" man.
If the word is freely and frequently used among Latino baseball players, I can say without a doubt that it is also freely and frequently used by homophobes in Latin America when they attack, beat up or kill someone who steps outside the socially acceptable gender norms.
If the word is freely and frequently used among Latino baseball players, it also stems from the fact that as Latinos we have merely begun a dialogue on what homophobia means and the damage it causes.
If the word is freely and frequently used among Latino baseball players, it means that homophobic language is prevalent at the clubhouses and that calling someone a "maricón" is seen as perfectly fine.
It's because we, as Latinos, are too willing to give them a pass.
I believe Escobar when he says that he has heard the word used in friendly banter.  Sports lockers can be rowdy, profane, uncensored spaces and profane words are used among friends to rib each other.  But that does not mean that the word still has a meaning and a power. And when you chose to express it in such a public way, you should not only own your mistake as Escobar did but also understand why you are being called on it.
So far, I have seen no indication Escobar does understand or is in any way interested in learning from his mistake.