Andre Ward, citing knee pain, pulls out of Nov. 21 fight in Vegas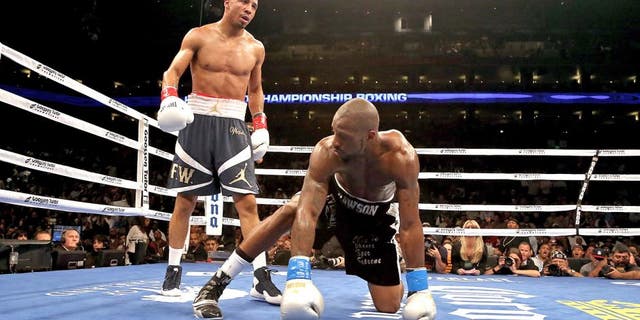 LAS VEGAS -- Two-time world champion Andre Ward pulled out of his scheduled Nov. 21 fight on Wednesday because of inflammation and pain in his right knee.
Ward (28-0, 15 KOs) was set to make his 175-pound debut on the Mandalay Bay Events Center pay-per-view card headlined by a middleweight title fight between Miguel Cotto and Saul "Canelo" Alvarez. Ward's opponent hadn't been determined, although 38-year-old Alexander Brand of Colombia was the most likely candidate.
Ward agreed to a three-fight contract with HBO last week, and the upcoming bout was scheduled to be his first since signing with Jay Z's Roc Nation Sports. Instead, Ward's persistent knee injury is the latest obstacle in his deliberate career path.
"I'm extremely disappointed that I'm missing this opportunity on Nov. 21, but at the same time, I'm encouraged," Ward said in a statement released by Roc Nation Sports. "Anytime I have had a minor or major setback in my career, by the grace of God, I've come back stronger, and this will be no different. I'm looking forward to a big 2016. Thank you to all my fans for your support and patience."
The 31-year-old Ward has fought just three times since beating Carl Froch in December 2011 to become the acknowledged 168-pound world champion and one of the sport's top pound-for-pound boxers.
Ward had a 14-month layoff after stopping Chad Dawson in August 2012, and then sat out 19 months before returning in June to stop Britain's unheralded Paul Smith in a tune-up bout in Oakland, California, Ward's hometown. The Olympic gold medalist spent much of his absence embroiled in a contentious dispute with his former promoter, the late Dan Goossen.
Roc Nation, which also promotes Cotto, is working to add a replacement fight to the biggest pay-per-view card of the autumn.
"We have no doubt that Andre will come back stronger than ever once his knee heals and that he will be a force in the light heavyweight division," Roc Nation executive David Itskowitch said. "We are working diligently to make an intriguing fight that will deliver a level of excitement commensurate with this great event."
Ward is expected to take on three-belt light heavyweight champion Sergey Kovalev next year as part of his deal with HBO, where he also has worked as a commentator.