Andre Smith will be first Bengals offensive starter to miss a game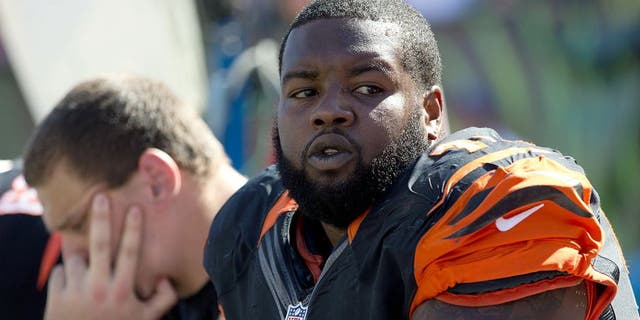 Right tackle Andre Smith will miss Thursday night's game against Cleveland with a concussion. Aaron Doster Aaron Doster-USA TODAY Sports
Bengals right tackle Andre Smith will be the first offensive starter to miss a game this season due to a concussion.
Smith suffered the concussion in Sunday's win over the Steelers. He'll likely be replaced by veteran Eric Winston, who came on in relief in Pittsburgh. Rookie tackle Jake Fisher may also see more playing time.
Only one other starter, safety George Iloka, has missed a game during the Bengals' remarkable run of good health. That may change Thursday night, as linebacker Rey Maualuga (calf) and Carlos Dunlap (shoulder) are listed as questionable. Both defenders were limited in practice this week after suffering their injuries in Pittsburgh. Dunlap was able to return shortly after his exit, while Maualuga remained on the sideline from the first quarter on.
Browns quarterback Johnny Manziel surely wouldn't mind if he didn't have to worry about Dunlap and his team-leading 6 1/2 sacks. Manziel will play in place of Josh McCown, one of five Browns starters already declared out. Receivers Brian Hartline and Andrew Hawkins won't dress, nor will defensive backs Joe Haden and Donte Whitner.
h/t: Cincinnati Bengals