Andre Johnson breaks into tears thanking his mom during Houston Texans retirement speech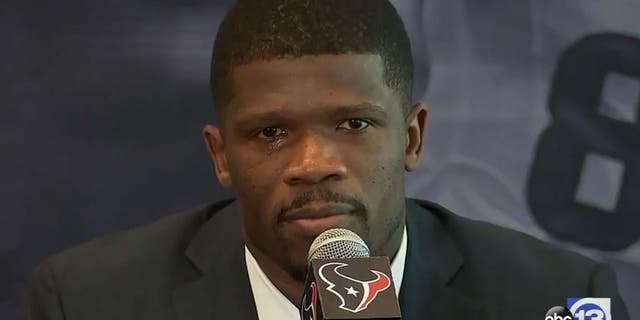 Andre Johnson retired from the NFL as member of the Houston Texans on Wednesday, and the seven-time Pro Bowl receiver broke into tears as he thanked his mom.
He also gave a tearful thank you to his uncle Andreand credited him with being the male role model in his life. Then Johnson wiped his eyes and cracked, "Now that I got that outta the way…" to appreciative laughter.
Johnson signed a one-day contract to retire with the team that drafted him No. 3 overall in 2003. He holds nearly every Texans receiving record and is 10th in NFL history in career receiving yards (14,185) and 11th in receptions (1,062). Back in 2016, we called him one of 15 current players who are locks for the Hall of Fame.
"The only regret I have is not bringing this organization a championship," Johnson told reporters.
Photo by Focus on Sport/Getty Im | Getty Images