Andre Drummond, Pistons work up a sweat with Forrest Griffin and Joanna Jedrzejczyk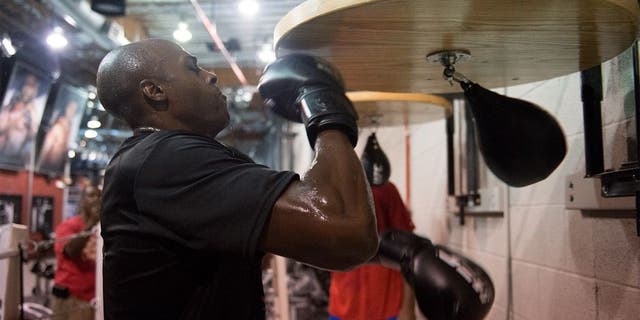 Last month we told you about the Detroit Pistons getting some new, temporary members when UFC hall of famer Forrest Griffin, heavyweight contender Stipe Miocic and rising featherweight Aljamain Sterling made the trip to "Motown" to workout with some of the team's stars.
Well, Griffin and the UFC have returned the favor.
All-star center Andre Drummond, as well as Anthony Tolliver, Joel Anthony, Reggie Bullock and newly re-signed guard Reggie Jackson took to "The Ultimate Fighter" gym for a workout led by Griffin. UFC heavyweight Stefan Struve and current strawweight champion Joanna Jedrzejczyk were also around to give the NBAers some tips.
"It was fun and nice," Jedrzejczyk said. "I'm happy they were able to learn something from me and Stefan. They train different, so it looked funny, but they did well."
Drummond, who stands eye-to-eye with Struve at 7-feet tall, averaged 13.8 points to go with 13.5 rebounds per game last season for the Pistons and is looking to take a greater leadership role with his teammates this season.
"At the end of the season we decided we wanted to do a team-bonding event," Drummond said. "Some of the UFC guys came over to the Pistons facility and did some training-camp stuff. I was like, 'You know, it'd be a great idea to return the favor. They did some our workouts, so we might as well try some of their workouts.'"
Check out the video above to see Drummond work the heavy bag and Anthony's quickly developing 1-2 combo. And for photos from the workout, click here.