Anderson struggles for the first time this season, Diamondbacks lose 6-1 to Indians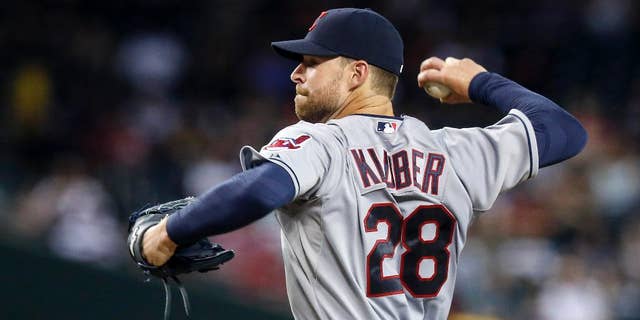 PHOENIX – Chase Anderson pitched well through the first seven starts of his big league career, even if the last two ended up in losses.
For his eighth start, Arizona's rookie right-hander had trouble controlling his fastball — it cost him.
Anderson labored for the first time this season, allowing four runs in five innings of the Diamondbacks' 6-1 loss to the Cleveland Indians on Wednesday night.
"He didn't have very good strike command, first-pitch command," Diamondbacks manager Kirk Gibson said. "He didn't control the counts. He got behind in counts. Left balls over the plate."
Corey Kluber, on the other hand, had much better command of his pitches.
The Indians ran through their bullpen in a 14-inning game the night before Kluber (7-5) gave them a lift with another strong interleague effort, allowing four hits while striking out eight in seven innings.
He improved to 6-0 with a 2.28 ERA in six career interleague starts.
"Obviously, we played a long game last night, but I don't think I put any more pressure on myself to go deep in the game as I normally would," said Kluber, who also lined a single to left in the fourth inning for his first career hit. "That's what I'm trying to do every game, go as deep as I can."
Early run support helped.
Michael Brantley homered and had two RBIs against Anderson (5-3), sending the rookie to his third straight loss after opening his career with five consecutive wins.
Yan Gomes also homered for Cleveland, and Michael Bourn had a pair of triples among his three hits. Jason Kipnis also had two doubles for the Indians, who had 10 hits and snapped a four-game losing streak.
"We didn't score in bunches, but scored one and then we scored two," manager Terry Francona said. "We kept after it. I thought we had good at-bats throughout the lineup."
Both teams needed their starters to go deep into the game after Tuesday night's marathon.
Arizona won 9-8 on Aaron Hill's single after both teams emptied their bullpens in a game that lasted 5 hours, 32 minutes, matching the longest game in Chase Field history.
Cleveland's bullpen had pitched 20 of the 41 1-3 innings the previous four games, so the Indians really needed a good outing from Kluber. And he delivered.
After giving up a pair of hits to start the first inning, Kluber limited Arizona's chances, allowing one runner to reach second base over the next six innings.
Arizona finished with five hits — none after the third inning until Miguel Montero's run-scoring single with two outs in the ninth.
"Kluber is pretty good," Gibson said. "We haven't seen him. He has really good stuff. A real live arm. He has some deception in his delivery."
Anderson ate up a few innings, though wasn't nearly as effective.
After losing his past two starts despite pitching well — four earned runs in 11 innings — the right-hander wasn't nearly as sharp against the Indians.
Anderson gave up a run in the first inning on Asdrubal Cabrera's sacrifice fly, and Gomes homered in the second. Brantley had a run-scoring groundout in the third inning and put Cleveland up 4-0 with a solo homer to right in the fifth.
"I knew I had to try to get deeper in the game because the bullpen was spent," Anderson said. "Just didn't do my job tonight."
Kipnis and Lonnie Chisenhall each had run-scoring hits off Zeke Spruill in the seventh inning to put the Indians up 6-0.
NOTES: Indians ace Justin Masterson will have his start on Sunday pushed back due to a sore right knee. He will be shut down for two days before throwing a bullpen to see how he's feeling. ... Arizona had stolen eight straight bases before Ender Inciarte was thrown out at third in the third inning. He was initially called safe, but it was overturned after a review. ... Arizona has a day off before RHP Brandon McCarthy pitches in a road game against San Diego on Friday. The Indians also have a day off before RHP Trevor Bauer starts the opener of a three-game series at Seattle.