Anderson Silva reveals why he's still interested in superfight with Georges St-Pierre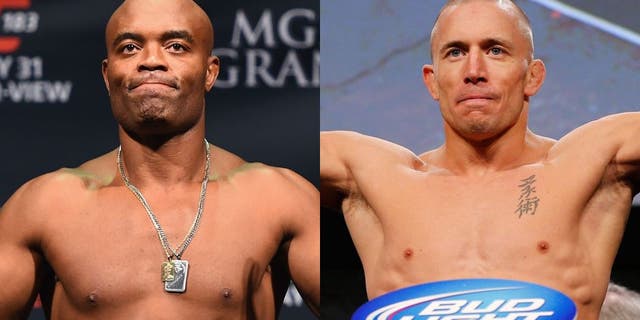 BROOKLYN -- Long before Conor McGregor was the center of attention in the superfight or big money fight conversation in the UFC, all the focus was on a proposed matchup between Anderson Silva and Georges St-Pierre.
For years, Silva and St-Pierre were on top of the UFC with each of them clearing out their respective divisions, which often times led to chatter about the two of them meeting inside the Octagon.
Despite a massive amount of interest from the UFC and the fans, Silva and St-Pierre never actually had the chance to fight. But now, several years later, there's still interest in making the matchup happen.
While Silva is no longer middleweight champion, he is still regarded as arguably the greatest fighter to ever compete in the UFC. As for St-Pierre, he's been out of action for more than three years after leaving the sport as a nine-time defending welterweight champion, but he's shown interest in returning to action if he can reach a new deal with the UFC.
"Of course," Silva told FOX Sports when asked if he would still be interested in fighting St-Pierre. "I think super fight with Georges is great. It's a big step for this sport because I think superfight with me and Georges St-Pierre or Conor McGregor is good for this sport and for the fans. I think (it would be) the best show for this sport."
Silva has also expressed interest in facing McGregor in a superfight because at this stage of his career he's all about making the matchups that the fans would want to see most.
When it comes to St-Pierre, Silva still holds the former welterweight champion in very high regard but knows that a fight between them would still bring a ton of interest from fans attending an event or watching on pay-per-view.
Boxing showed with the matchup between Floyd Mayweather and Manny Pacquiao that interest in a long desired superfight will still draw interest no matter when it takes place.
For now, Silva is keeping his attention on Derek Brunson, who he faces at UFC 208 on Saturday night in Brooklyn, but from the sound of things, he'll still be around if St-Pierre ever decides to return and still wants to face him.
"I think five more years," Silva said with a laugh when addressing how much time he has left in the sport. "Maybe. My wife and kids would kill me but maybe three or four more years."