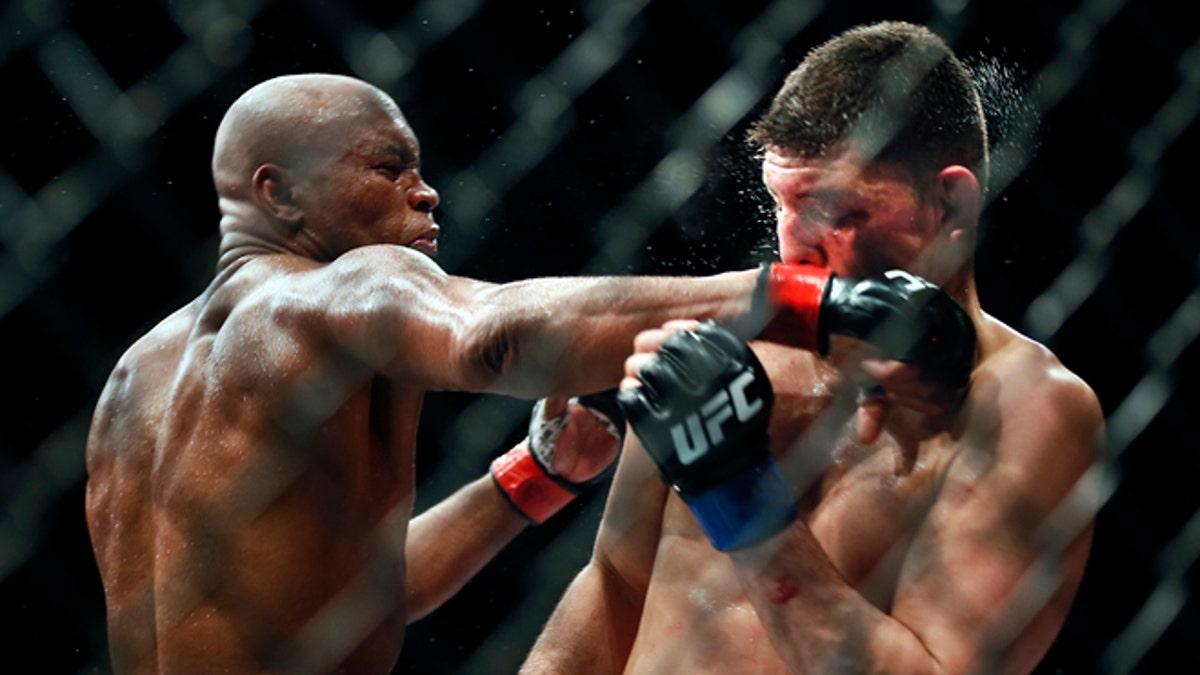 LOS ANGELES (AP) – Former UFC middleweight champion Anderson Silva has tested positive for steroid use.
Silva, the 39-year-old Brazilian widely considered the greatest mixed martial artist in the young sport's history, tested positive for Drostanolone metabolites and another steroid in an out-of-competition test Jan. 9.
Nick Diaz, his opponent at UFC 183 last Saturday, also tested positive for elevated levels of marijuana metabolites in results released Tuesday night by the Nevada Athletic Commission.
The UFC said the commission is doing further testing to confirm the results, but the stunning announcement casts a large shadow over Silva's impressive comeback from a badly broken leg last Saturday for a unanimous-decision victory over Diaz.
In a brief statement, the UFC said it was "disappointed to learn of these initial results."
"Anderson Silva has been an amazing champion and a true ambassador of the sport of mixed martial arts and the UFC, in Brazil as well as around the world," the UFC's statement added. "The UFC has a strict, consistent policy against the use of any illegal and/or performance-enhancing drugs, stimulants or masking agents by its athletes."
Silva (34-6) beat Diaz by a wide decision last weekend in Las Vegas, winning every round on two of the three judges' scorecards. The fight was a triumphant return to the cage for Silva, who broke his lower left leg 13 months ago.
UFC President Dana White is among those who have proclaimed Silva to be the sport's greatest fighter. He won 10 consecutive title defenses over seven years as the UFC's 185-pound champion, most of them showcasing his incredible athleticism and striking skills, until losing the belt to Chris Weidman in July 2013 and breaking his leg in their rematch.
Yahoo Sports first reported Silva's failed test and Diaz's latest failed marijuana test. Silva and Diaz will face a disciplinary hearing before the Nevada commission on Feb. 17, and their licenses to fight likely will be suspended.
Silva has never publicly failed a drug test in his MMA career, but could face a nine-month suspension for a first offense.
Diaz tested positive for marijuana use twice already in his career, in 2007 and 2012, and could face a lengthy suspension. He returned from a self-imposed 22-month absence to take on Silva for a lucrative payday.
In another statement, the UFC said it will "fully respect" the Nevada commission's suspension decision, noting that Diaz has violated the UFC's fighter conduct policy and his promotional agreement.
Silva's manager, Ed Soares, didn't immediately return a request for comment.
Immediately after his victory last weekend, Silva said he hadn't decided whether to retire from the sport. He planned to consult with his wife and five children before determining his future.