Anderson shuts out Reds in return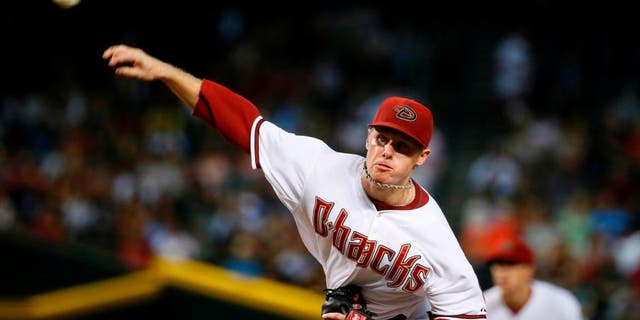 PHOENIX -- Chase Anderson pitched seven innings of four-hit ball in his return from the disabled list, and Welington Castillo homered again for the Arizona Diamondbacks in their 2-0 victory over the Cincinnati Reds on Friday night.
Anderson (5-4) struck out seven and walked two in his first win since June 28. He was activated before the game after missing almost three weeks with right triceps inflammation.
Two singles, a flyout and a walk produced the first run of the game. David Peralta drove in Ender Inciarte with a one-out single in the first.
Castillo's seventh-inning shot, an opposite-field drive off reliever Manny Parra, gave the catcher seven home runs in his last 10 games. Castillo has hit 12 of his 14 homers this season since being acquired from Seattle on June 3.
The Diamondbacks are 10-1 this season when Castillo goes deep.
Daniel Hudson pitched one inning of relief and Brad Ziegler earned his 20th save.
Anderson ran into trouble in the fifth after back-to-back singles by Brayan Pena and Eugenio Suarez. Reds pitcher Raisel Iglesias attempted a bunt, and Pena was thrown out at third by first baseman Paul Goldschmidt.
Third baseman Jake Lamb's throw got away from Chris Owings, who was covering first, but Inciarte alertly backed up the play and threw to second for the tag on Iglesias trying to advance.
Reds manager Bryan Price challenged the out call at second but it was upheld. Anderson then struck out Billy Hamilton to end the threat.
Iglesias (2-4) turned in one of his best performances of the season in a losing effort. He allowed a run on three hits and struck out six in six innings, walking only one and retiring 15 in a row between the first and sixth innings.
ROSTER MOVE
Arizona sent pitcher Allen Webster back to Reno to make room for Anderson on the roster. Webster pitched in relief Thursday at Washington.
UP NEXT
Reds: RHP Keyvius Sampson makes his second career start Saturday at Arizona. He's 0-1 since being called up on July 30.
Diamondbacks: LHP Robbie Ray is the scheduled starter against Cincinnati on Saturday when the Diamondbacks retire Hall of Famer Randy Johnson's No. 51 jersey. Ray (3-6) has allowed two earned runs or less in eight starts but has yet to win at home.